How do I ask a girl out?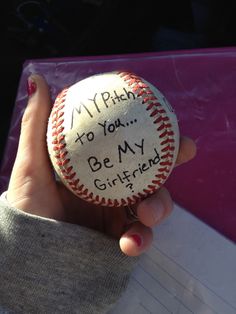 Dear Felicia, 
How do I ask a girl out?
Most girls are secret saps and always want to be surprised and have cute or unique things happen to them.
NEVER ASK HER OUT OVER TEXTING. Asking a girl out over texting is the worst thing you could ever do. When you ask a girl out over a text, it shows that you are too shy to approach her and that you are unable to be yourself around her. It would give her the impression that you are not the right one for her.
There is many unique ways to ask a girl out.
Surprise. Girls always like to be surprised. You could do something big and elegant for her. Remember the commonly used phrase, "Go big or go home."
Movies and Animals. Use references from her favorite movie or animal. For example, "Whale you go out with me?" or "There are many fish in the sea but you're the only one for me. Will you please go out with me?"
Memorable. Think about it thoroughly. Think of something that you dont want her to forget.
Food. For most girls food is always their friend. The is always the classical way of being cheesey and asking her out with pizza. There is also taking her favorite food and writing on it with icing on a cookie or going to Dunkin Donuts and writing on the doughnuts.
Books. Books don't always have to be your enemy, they can be your friend too. Find a book that uses the quote "Will you go out with me?" or "Will you be my girlfriend?" and highlight the words so they stand out for her. You can put a sticky not under it with her choice of responses. (See the bottom for an example.)
Struggle. Make her work for it a little. You can do the fill in the blanks or multiple choice. (See bottom.)
Sports. If she plays a sport, relate they way you ask her out to her sport. For softball, you can write on a softball, if its volleyball, you can write it out in the nets or on the ball. Soccer? Use the goal as scoring a date with her. (See bottom)
There is many different ways to ask out a girl. These are just a couple. Think about it and make sure it's unforgettable. (See Featured Image)
I hope this helps.☻
Email me questions for emotional and relationship guidance at [email protected]
Book Idea: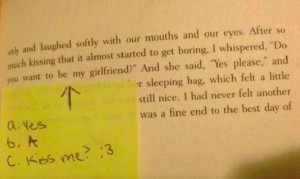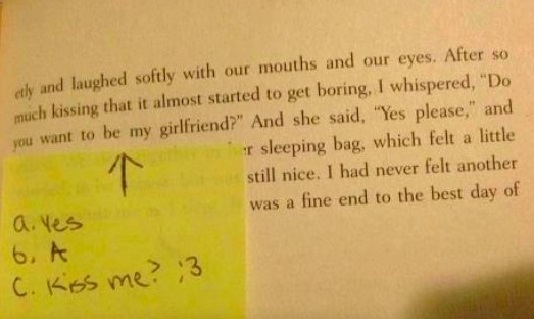 Struggling Ideas: