I like a guy with a girlfriend…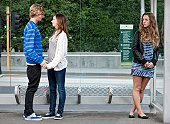 Dear Felicia,
I really like this guy but he has a girlfriend, I don't want to ruin their relationship. What should I do?
Friendship. Stay a friend to him. Let him know that you're always going to be his friend and support him. Make sure that you guys hang out still and your friendship doesn't fade away.
Trust. Make sure that he is aware that you will always be there for him. Let him know he can trust you. But trust goes both ways; hopefully you trust him too. If you do trust him, tell him what your feeling are towards him as well, but I would also let him know you don't want to ruin his relationship; that you just want him happy.
With that, he will know the truth and from there it would be his decision.
I hope this helps.☻
Email me questions for emotional and relationship guidance at [email protected]