Indoor track teams see success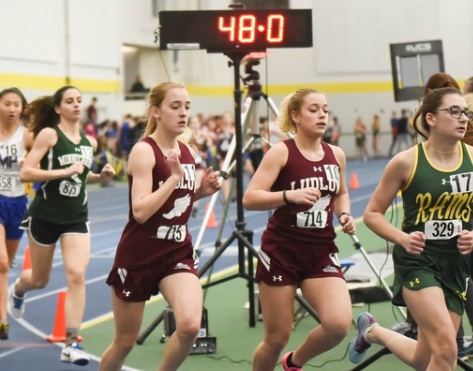 The 2018 boys and girls indoor track teams have thrived this past season with improved communication, teamwork, motivation, and commitment to work towards their goals.
The girls team was lead by captains Angle Estrada, and Sydney Carrington, and the boys team was lead by Ryan Goncalves and Nick Gregoire.
"I think the team has improved since last year because everybody actually talked this this year and last year it was just little cliques," said junior Savanna Charow.
Junior Nick Gregoire agrees with Charow: " My team worked as a whole by encouraging each other at practice and telling us to work hard," adding that much camaraderie was displayed at meets when teammates rooted each other on in their individual events.  
This season has seen several personal records, with Savanna Charow running a 5:55 mile and her sister, Brianna, running a 6:04.
Savanna Charow said the coaches mixed up the training program and this also helped with their success. Coach Brian Walsh would switch up the mileage each day while incorporating weight room exercises.
The Western Mass meet took place last friday from 6 to 9 p.m. at Smith College in Northampton.   
"Out of the very few people who qualified for Western Mass, we all did amazing," Charow said, referring to senior Angle Estrada, sophomores Baylee Edwards and Jocelyn Trajkovski, junior Savanna Charow, and freshmen Brianna Charow.  
Despite being very close, no member of the boys team qualified for Western Mass, although some attended the competition to cheer on their teammates.  
According to team members, the results were amazing, citing Charow's personal records, as well as the girls running 4×200 and 4×400 relays and placing 6th and 7th. But all these amazing results don't come without hard work.
"With everyone's determination on the team, I'm expecting big things from both the girls and boys indoor track team next year. This season was great, but next year's is going to be a whole lot better," said Gregoire.
Members of the team are looking forward to setting new goals next year and to continue working as a team.
"Eventually we can be one of the top teams if we work hard," Charow said.