Goncalves-Korny breaks multiple swimming records at LHS
Peace, water, intensity, strength. That is what high school student Abigayle Goncalves-Korny envisions when she hears the word swimming. This high-intensity aerobic sport, requiring strength, endurance, and technique, is the sport she has chosen for ten years.
It all started at the age of four when her parents wanted to ensure Abby's safety in their own pool. She began swimming lessons, and once her parents felt she had mastered the skill, she went on to sample various sports. But to her, nothing felt as good as being in the water.
Abby joined her local recreational team, the Ludlow Sea Lions, at the age of six and stuck with it for the next four years. Looking to expand her career and challenge herself more, she moved on to join a state team with year-round commitments. She has been doing it ever since, as well as being a vital member of Ludlow High School's swim team.
According to Abby, the reason she has stuck with swimming for so long is that "it allows [her] to be present in the moment and makes [her] feel good mentally and physically." Along with those benefits, the pool deck has been the ideal place to find lifelong friendships and make everlasting memories. Abby also enjoys that swimming always allows room for improvement, no matter how good the athlete. She is constantly reaching for new ways to brush up on her skills, and her training helps her achieve just that.
Swimming year-round comes with lots of hard work and dedication. Abby exemplifies those qualities, which help her excel in any workout set by her coach. Her state team and high school coach, Jacob Wingfield, has an extensive swim resume and brings his advanced knowledge to the pool deck.
According to coach Jacob, "Abby is very dedicated to her craft. She practices five to seven times a week for at least two hours every session. Swimming is a year-round sport, so there are very few weeks outside of summer and winter training when she is not in the pool. The summer is the shorter of the two training cycles, starting in April and running to championships at the end of July and into August. The winter season, meanwhile, picks up immediately in September and is packed with multiple training cycles to peak for mid-season championships in December, high school championships in February, and season champs to end March before starting over again."
Abby's dedication to her sport not only shows in the pool during her lengthy season but also at home and during the short off-season. Abby emphasizes the importance of rest days to take care of her body so that she can prevent injuries and continue to work hard. When she's not recovering, she runs around her neighborhood to maintain her aerobic intensity and does personal strength training to build muscle.
Even the best athletes struggle with motivation no matter how much they love what they're doing. Abby combats these mental challenges, especially when sets get hard, by trying to "focus on what [she's] doing in the moment and telling [herself] that the pain is only temporary, [as well as] knowing that [she is] improving with each and every practice and meet." She constantly remembers her goals and continues to be driven even when motivation is hard to find.
Even though swimmers mostly race individually, Abby is never alone in her swimming career. Abby is always surrounded by people who support her, like her friends and her coaches. Although there are two people who are there for her the most. She says, "My parents support me through swimming; my mom especially constantly reminds me that what I do to push myself is paying off."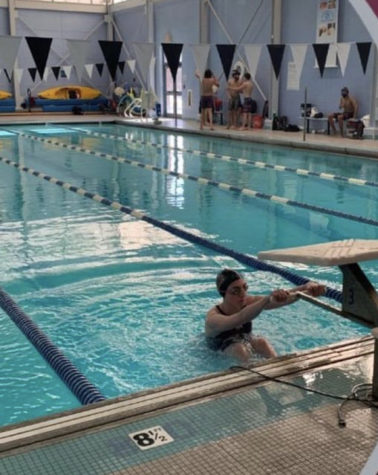 With her parents' unwavering support, every step Abby takes, she is never alone and has amazing supporters to catch her when she falls. Combined with her ample amount of training and an unfaltering support system, it should come as no surprise that Abby has accomplished a lot in her career.
Abby's success is shown in many forms. She has qualified for numerous end-of-season championships and achieved multiple personal time improvements across different events. Abby has worked tirelessly to hone her skills and has become one of the most talented swimmers at Ludlow High School. She holds records in the 200-yard individual medley (2:14.22), 200-yard freestyle (2:02.95), 100-yard butterfly (1:02.75), and 100-yard backstroke (1:02.67), and she has a secure spot on all three relay records. Additionally, she received the team MVP award in the 2022-2023 high school swim season. Abby has proven herself to be a true force to be reckoned with and an excellent example of what it means to be a champion.
Her coach, Jacob, comments on what he believes makes Abby so successful: "One thing I enjoy about coaching Abby is her ability to rise to a challenge, whether it be in a race, adding a new event to her repertoire, or doing a challenging set in practice. What truly sets her apart is her willingness to challenge herself and revel in the challenge, never complaining in the face of adversity. While others may enjoy a challenge from time to time, Abby is always up to be pushed to make herself better and never complains about a loss, missing an interval, or the difficulty of an event because she knows she is learning and improving, which is the foundation of success."
Abby's success is noticed not only by herself and her coaches but also by anyone lucky enough to swim with her.
At every practice, there is always that one person who stands out, that lifts everyone up, and makes the whole experience better for their teammates. Abby is that person. She brings positive energy to the practice environment that is infectious, and she inspires everyone around her to be better, work harder, and strive for excellence.
One of Abby's best friends and teammates, Kaity Lafond, comments that "she is motivating and encouraging. I love swimming with Abby because she is a good role model in the pool. Abby has accomplished so much at such a young age, and it really makes me want to be like her."
Abby is the glue that holds the team together and the driving force behind the success not only of herself but also of everyone around her.
Abigayle Goncalves-Korny's journey in swimming started at a young age, driven by her love for the sport and the joy she finds in being in the water. Her dedication, hard work, and unwavering determination have propelled her to become an exceptional swimmer. With her remarkable accomplishments, supportive parents, and positive influence on her teammates, Abby has truly become a force to be reckoned with in the swimming world. As she continues to pursue her passion, it's clear that Abigayle Goncalves-Korny is not just a swimmer but also an embodiment of strength, resilience, and the pursuit of excellence.