Ludlow football prepares for 2022 season
Lions reflect on 2021 season
The Ludlow Lions football team, led by head coach Ray Saloio, struggled in the 2021 season. The team was injury-stricken the entire season, which affected the team, resulting in a 2-9 record.
 The starting quarterback, sophomore  Anthonie Emco, sustained an ankle injury during practice leading up to the Lion's week four matchup against Taconic High School. This injury sidelined Emco for the remainder of the season. The Ludlow Lions named Michael Sternowski, wide receiver, as the starting quarterback. 
"The greatest challenge last season was adversity," said Saloio. "We were hit by the injuries which forced the team into situations where we became predictable and it forced players to play out of position. Some were unavoidable but others could potentially be avoided by off-season training. We're trying to work through it in the off-season and will continue during the season."
New faces arise as senior class leaves 
The Ludlow Lions football team is looking forward to seeing new faces this upcoming season with the departure of 11 seniors. The Lions will aim to fill the gaps of the key losses in Michael Gilrein ( RB/LB), Yuho Jang (RB/CB), and Collin Doyle (TE/LB). The projected number of incoming freshmen is higher than years in the past. Eighth-graders have already started taking part in Lion's off-season lifting program. 
"The team's main weakness this past season was numbers." Says Swiderski. "We are recruiting as many people as possible." 
The Lions are hoping to see kids come up from the youth football program and other new faces to the sport. 
Players to watch for Lion's 2022 season 
The Ludlow Lions had some players step up to the plate last season and played some key roles in the Lion's offense and defense. Starting quarterback Anthonie Emco was able to quickly show his success on the field. Emco showed his speed, throwing ability, and ability to read the field and scramble from the pocket when needed. 
Emco was on path to having a huge season before his ankle injury sidelined him for the remainder of the season. Emco also plays basketball and does track for the High School. Emco is entering his Junior year and is someone to watch for this upcoming season. 
Anthonie Emco's regular-season stats: 3 touchdowns, 0 interceptions, 252 passing yards. 
Michael Sternowksi was one of the key players the Lions leaned on after losing Anthonie Emco. Michael Sternoskwi and Anthonie Emco were the dynamic duo on the field. Sternowski was having a tremendous season at wide receiver before transitioning to QB.  Sternowski's season playing wide receiver was cut short when he made the early transition after week three.
"I'm doing everything I can." Says Sternowksi. "I think to myself is this enough? And if it's not then I go do more till I can't anymore. I'm willing to make the sacrifices a lot of other kids aren't to make and use my free time to improve my game. I go to camps, the gym, team lifts, and clinics run by people who care about my game." 
Sternowksi has also played basketball for LHS and is currently on the track team. He is a key player to keep an eye out for entering his senior year. 
Mason Peltier (LT/C)  was one of the key linemen with Adam Krutka (LG) that led the Lions to have a successful run game. Both are very physical linemen that do not shy down from a battle. Headcoach Ray Saloio knew when he needed a big play, he was going to run it their way. Both linemen always block to the whistle and are eager for their next pancake. Krutka made Second team All-Western Mass after his Junior season and only let up one sack last season on 86 pass attempts.
 Mason Peltier was locking down the left side at tackle when he suddenly had to make a switch when starting center Joe Bates got injured and was sidelined for the remainder of the season. 
Mason and Krutka play other sports at LHS. Mason is a baseball and basketball player, and Adam is on the track team. Both linemen have been working extremely hard this off-season in preparation for their last year playing at LHS. Keep an eye out for these two talented linemen.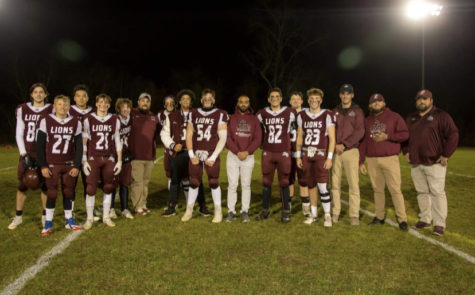 Meet the coaching staff for the 2022 season
The Ludlow Lions will be led by returning Headcoach Ray Saloio, who became a coach at LHS in 2014, entering his 9th season coaching at Ludlow High School. Players report that Saloio is a very knowledgeable coach who makes successful plays and game plans to set his team up to win a game. Coach Saloio teaches his team how to work as a team and how to execute every play that is called. Coach Saloio wants everyone on the field to play as a family and to never stop fighting regardless of the score or outcome. 
Saloio described his preparation for game plans as  "At the highest level, the game plans for all 3 phases (Offense, Defense, and Special Teams) boils down to what we can take advantage of. What matchups are in our favor? What matchups or situations do we want to stay out of? What tendencies does the opponent have? We will also self-scout to try and break our tendencies." 
The Defensive backs/D-line/O-line is led by Coach Joe Codding. This is Coach Codding's 9th season at LHS since entering the program in 2014. Coach Codding, LHS ALumnus, played football his whole high school career. After High School, Codding continued his football career playing at Westfield State. Coach Codding is a smart-minded coach who works with his players to make them the best players. He loves teaching the game of football and teaching his players to deal with adversity. 
"The football coaching goals I strive to accomplish: every year I strive to accomplish teaching the fundamentals of football to a new group of players." Says Codding. "More importantly, I strive to teach young people how to deal with adversity and how to be part of a team, and to bond together through winning or losing by working hard, not giving up, and becoming a family that doesn't let each other down." 
The WR and CB core is led by Coach Dan Rodrigues. Coach Rodrigues graduated from LHS in 2015. Rodrigues, a former Quarterback, was a Captain of the team. Coach Rodrigue's best interest is always looking for a way to help his receiving and cornerback group be the best players they can be. Rodrigues prepares kids for the next level of football and teaches them to face the next big challenge that is going to come their way.
"Coach Rodrigues has helped me take my game to a whole new level, he's come to me about playing college ball and getting me prepared to face the bigger challenges within camps or games." Says Sternowski. "He has put a lot of things about the game in a better perspective, that it's not all about who is the fastest, or who is the biggest. He values the IQ and mental toughness of the game. It has helped me tremendously to excel as a player in any position I've played." 
Sternowski follows up with "I'd say he's the best coach I've had in any sport."
The WR, RB, and CB core is also led by Coach Mike Marshall. This is Coach Marshall's second year in the program. Marshall is an alumnus of LHS. Coach Marshall and Coach Rodrigues both played on the same team together. Being a former player, Coach Marshall knows the offense Ludlow runs. It is easy for both Rodrigues and Marshall to teach it. Coach Marshall is a very knowledgeable Coach and teaches his players the importance of playing as a team and having each other's back on the field.  Marshall also teaches his players the value of work ethic. 
"He constantly pushed to my limits when it came to every part of practice. If it was varsity, scout, or conditioning at the end, Coach helped me to push myself," says Swiderski. "He caused my work ethic to skyrocket throughout the season, and I wouldn't have built the confidence to play CB without him."
Ludlow Lions 2022 Schedule 
The Ludlow Lions will have the same schedule as last season, just flipped. The Lions will have two scrimmages before they jump into their regular-season games. 
Quaboag HS (Away)  Last season score: Quaboag 32 Ludlow 6
Ware HS (Away) Last season score: Ware 38 Ludlow 0 
Belchertown HS (Home) Last season score: Ludlow 12 Belchertown 6
Taconic HS (Away) Last season score: Ludlow 36 Taconic 20 
South Hadley HS (Home) Last season score: South Hadley 40 Ludlow 8 
Putnam Vo-Tech (Home) Last season score: Putnam 19 Ludlow 7 
Chicopee HS (Home) Last season score: Chicopee 28 Ludlow 24 
Pittsfield HS (Away) Last season score: Pittsfield 54 Ludlow 13
Thanksgiving game Palmer HS (Home) Last season score: Palmer 34 Ludlow 0 
Two fill-in games if the team doesn't make the playoffs