Madison Sunderland Breaks Schools Record for Most Strikeouts
After almost a two-hour drive, the softball team arrived at the field ready to play what they thought would be another normal game versus Drury High. It was Monday, May 8th, around 4 pm, and the sun was shining on everyone smiling faces after a quick, light-hearted joke about trying to fit everyone's bags into an excessively small dugout. After the laughter settled down, everyone got into the game-ready mindset and started warming up. 
Ludlow was first up to bat that game as Drury took the field. The game had officially started, and most of the team had no clue what big achievement was going to be accomplished by Madison Sunderland, our softball team's pitcher, that same day.
It was a couple of innings into the game when the team came in from fielding, and Madison's twin brother, Luke Sunderland, discreetly informed the team that Madison was going to beat the school record that game. But Luke made sure not to tell Madison because he didn't want to shift her focus off of the moment, and he wanted it to be a big surprise for her. 
Not long after, Madison had made it into Ludlow High School's history by beating the old record and now holding the title for the most strikeouts.
Before Ludlow High School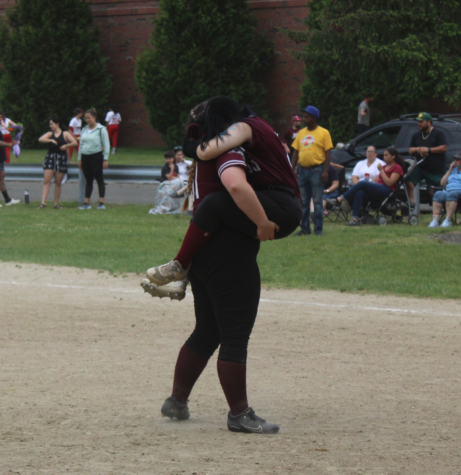 Before Madison, commonly known as Maddi to her friends and family, was able to start her path to record history, she had to start somewhere. Maddi has been playing softball for a whole fourteen years; that's a long time! Her calling for pitching all started when her dad encouraged her to go to a youth clinic specifically for pitching. After that clinic, Maddi fell in love with pitching and has stuck with it since then. 
Consistently playing softball and determined to continuously better her skills, Maddi kept practicing and went on to make varsity in seventh grade. 
The Exception
From my common knowledge, middle school students are only allowed to participate in certain high school sports teams, and usually only junior varsity. During softball try-outs, the middle schoolers and anyone completely new to the sport get separated into different groups and are placed for junior varsity try-outs only.
Maddi stood out from the rest. When Maddi first demonstrated her skills in seventh grade, she proved that she was special and she was exactly what the team needed. Due to her impressive skills and determination, the school was able to make an expectation for her. Only being in seventh grade, Maddi's skills were already beyond junior varsity and placed her in a secured spot on varsity. 
After Maddi was able to make varsity in her seventh-grade year, she has stayed pitching with the same team since. This year, her senior year, marked her sixth consecutive year on the high school's varsity softball team. 
The total of six years on varsity was a huge catalyst leading Maddi to break the school's strikeout record.
"I couldn't be happier"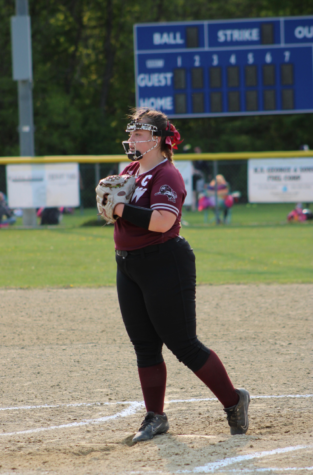 Counting her strikeouts, Maddi became aware of the previous school record her freshman year. The previous record was held by Julia Anneccherico, with 456 strikeouts in the year 2018.
During her freshman year, Maddi became aware of Julia's record, and it became her goal to break it. Determined to leave a legacy behind, Maddi worked extremely hard by taking extra time outside of practices to spend on pitching lessons; she also spent her off-season focused on further developing and improving her skills.
Not only did Maddi physically prepare herself in order to break the record, but she had the mentality for it. The attributes that Maddi retains have deeply contributed to her success as a pitcher. When asked about Maddi's ingredients for success, our coach, Melissa Rocker, explains, "Maddi's attributes to success are her willingness to accept feedback and her ability to post-game reflect." Our coach went on to describe Maddi as "determined" and able to "persevere through difficult situations." Furthermore, she said, "Her tenacity and commitment to team goals are exemplified by her ability to see no "I" in the team."  
Both Maddi's impressive skills and strong attributes helped her to accomplish her goal and break Julia's record on Monday, May 8th, 2023. Her record-breaking day was a game verse Drury High where she ended the game with a total of 459 strikeouts. That game marked a forever achievement for Maddi that will stick with her all her life as a huge accomplishment. 
"It was the most incredible feeling I could have ever felt," said Maddi when I asked her how it felt to break the record. Maddi continued saying, "It was as if I was holding the world for a moment."
Maddi wasn't the only one proud of her achievement. Our coach had said she "couldn't be happier" to see Maddi's hard work pay off. Also, a teammate, Eris Learned, said she was "so excited for her" and proud of her accomplishments. Maddi's efforts did pay off, so much that the team had expected her to break the record because of her hard work and determination.
Although Drury's game wasn't the end for Maddi, that game was only the middle of the season, and since then, Maddi has racked up over 500 strikeouts total. Sadly the softball season is nearing its end, and Maddi will be going off to college, leaving her impressive record behind. 
From one Break to Another
With the number of strikeouts Maddi has accumulated over her six years on varsity, her record will prove to be a tough challenge for another person to beat. However, her record isn't the only thing she will be leaving behind. 
First, Maddi broke a record, and now some close friends' hearts. As Maddi goes on to play softball at Baypath University, her positive presence will be missed by many on the softball team. 
The team's catcher, Eris Learned, has been catching for Maddi for the past two years. During this time, these two developed a very close bond. Eris exemplifies how everything about Maddi will be deeply missed, from her 'striking out almost every batter" to "her energy and herself as a person" 
Eris is just one prime example of someone Maddi has affected, but Maddi has truly left a huge impact on the entire varsity softball.
A Ball of Sunshine
Maddi left a legacy with the school, but she also left a legacy with her team. When asked about Maddi's impact, Eris explained how Maddi "helps carry the team and keep everyone motivated and moving through the games," Eris also stated that "the team wouldn't be the same without her."
From what I've noticed as well is that Maddi is like a ball of sunshine for the team. Whenever anyone is down or anyone needs something, Maddi is always there with her bubbly personality to bring in positive energy.
Curiously, instead of asking people what impact Maddi had on the team and what she leaves behind, I asked her instead. While what Maddi had hoped to leave behind is mainly targeted for the softball team, I think there's something in what she said that everyone can take something good from. 
As Maddi answered she said that she hopes to leave behind an "image or goal that others can strive for." She continued to explain how she wants to be a "leading light" for people to follow in order to show that "anything is possible once you set your mind to it and work hard." She finished by describing how she wants other people to step into a leadership role, such as the one she held, and she wants people to continue to bring each other up and continue to love the sport while "playing every game like it's your last."
"Be a role model if possible."
I asked Maddi for any last words to the team, and this was her exact response:
"These past few years have been incredible. Everything that has happened has been a group effort. All of our accomplishments have been through the blood, sweat, and tears that we have shed on this field. Always put in hard work but never forget that this sport is something you're supposed to love. Never make it a job or else you'll lose the excitement and joy that comes out of this game. Always be the best player you can be and have confidence that you can do it no matter what since your team is always right behind you."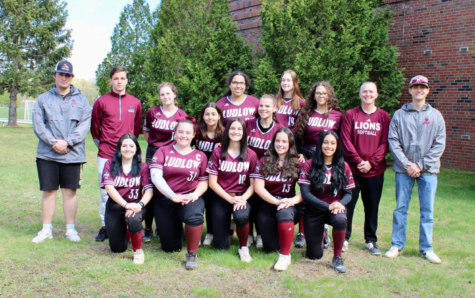 With her last few words, Maddi has left behind a record with Ludlow High School and inspiration for not only the members of the softball team but for everyone. 
A huge congratulations on breaking the strikeout record Maddi, and I know great things await you up ahead.