LHS Introduces a New Varsity Boys Volleyball Coach
After ten of the boys varsity players graduated, and their coach retired, the remaining players were left with unknown circumstances after their last game in the 2022 season. 
This year the boy's varsity volleyball team is forced to start from scratch. Not only are there new players on the team, but a new coach as well: Nicole Kana.
Coach Kana, originally a high school basketball star, turned into a volleyball player herself. Starting off At Mercy High School in Connecticut. A former player for the Connecticut Juniors and Husky Volleyball club teams has now taken on the role of head coach for LHS's boy's varsity volleyball team. Kana said she was "… just poking around on Indeed [a job listing site] one day and was surprised to see the position open." 
Kana attended Westfield State University and was majoring in criminal justice. After graduating in 2017, she became a direct service advocate at the YWCA Young Parent Program, where she provided young parents assistance with community-based opportunities. Fast forward to August 2021, and she fell back into the game of volleyball. Longmeadow High School was the reason. Kana became the assistant coach of their volleyball program, where she was able to develop team practices, manage team statistics, and scout opponents. Also, having coaching experience as the JV coach for Springfield International Charter School and a club coach for the Pioneer Valley Juniors. 
As Kana says, she was able to "…work with and be mentored by some local coaches who are constantly teaching and helping me…". This is where she found her motivation to apply for the job at LHS.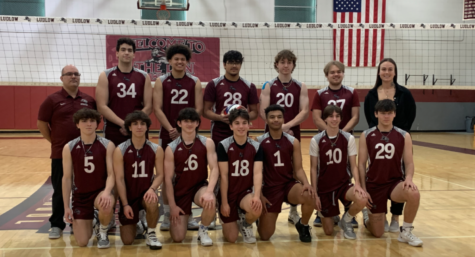 When asked if she was nervous about taking over the LHS boy's volleyball team, she replied,  "Yeah, of course," followed by a comparison of the first day of school as a kid with "… the self-doubt type of questions in the back of your mind. Will they like me? Will they like my coaching style?" 
The players have responded favorably to Kana's coaching style.  Thomas Quiterio says, "I was a little nervous about having a new coach because I felt like she might not like me and that I could possibly lose my spot from last year." Now two months into the season, he has found he was wrong. The team's starting setter, Tristan Moss, says, "She's chill and gives good energy to the team."I like how she coaches because it's for the lead up of games and working on our skills," adding that she "provides us with a lot more feedback than our coach from last year. This year our coach provides us with our own game film that we watch as a team; she also provides us with our stats after each game which our coach from last year didn't do." 
Junior Anthony Shea agrees with his teammates, saying, "Coach Nicole always asks our opinions on how we feel about the drills we take part in and what we can do as a team to get ready for our upcoming challenge."
Despite Kana's previous worries, she was welcomed with  "… eagerness and enthusiasm…" and a " great group of players who are super fun and willing to work hard." 
To these players, a small change in coaching style has made a big difference. Kana likes to call her coaching style "a large chaotic ADHD jumble."
When asking Kana what she looks for in her players, leadership was a recurring topic she kept ensuing. Shea was chosen by Kana to be this season's captain along with senior Braden Schwartz When asking Shea why he felt Kana gave him this position he responded with …"I make sure to make my thoughts and opinions known to her, and I also try my best to encourage my teammates. I do whatever I can to try and improve the team and the players around us." Shea, who is known to be the boys varsity soccer goalie, is used to having a loud voice used for communication, which Kana has seen as he reflects it in volleyball as well. 
While interviewing Kana herself, she mentioned that "As a huge men's and boy's volleyball fan, I decided I would help the movement." I pondered for a moment about her usage of the word "movement." I got to researching and found 22% of volleyball players in the United States are men. In contrast, women overpower with 78%. 
Later on, she explains, "one day, I will make an impact on this sport just as my mentors have." Expect she already has. 
Tristan backed up my claim with, "Coach Nicole motivates our minds to train hard, which led to improved performances and a positive relationship throughout the whole team." Tristan then went on to say, "It was like a domino effect that has led us to qualify for Western Mass and States." 
Which was Kana's initial goal.  "…players are more comfortable on the court and expanding their knowledge of the game."
Not only was qualifying her only desire but as well as getting "…players more comfortable on the court and expanding their knowledge of the game." As the boys prepare for their upcoming state game on June 5th against Bellingham High School, Kana has a positive attitude going into knowing they "…are well on our way to reaching this goal."