More Than Just a Hobby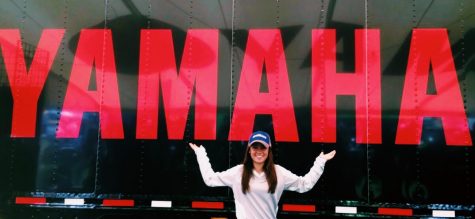 Just at nine years old, Junior Brianna Chabot found a love and interest in snowboarding and at eleven she began snowmobiling. Now at sixteen years old, both snowboarding and snowmobiling have became not only hobbies, but passions.
Chabot has been snowmobiling her whole life, but at the age of eleven she was eligible to get a license and her very own snowmobile.
"I've been doing it my whole life just riding with my dad, and he'd let me grab the throttle here and there," she says.
Chabot's interest to snowmobile and snowboard sparked by watching her family do these things and she wanted to follow in their footsteps. She has easy access to do both extreme sports because her aunt and uncle have a log cabin in Vermont.
"Snowmobiling and Snowboarding, very different than other sports, and has an impact on who I truly am," says Chabot.
Chabot catches every moment with her GoPro camera. She turns all her clips into a video edits it, and adds music to it as well.
She says one of the most challenging things about snowboarding and snowmobiling is the expenses that come with each sport. Between gear, snowmobile insurance, and the lift ticket at the mountains, it all adds up.
"Another flaw to doing these sports would have to be mother nature," she says. "When there's no snow I'm stuck inside hoping it will snow."
During the winter season, Chabot tries to snowboard and snowmobile every chance she gets. Almost every weekend she heads up north to her aunt and uncle's house. The public snowmobile trail runs at the end of their driveway and her uncle has his own personal trail's.
"Tickets are only fifteen dollars at Berkshire East on Thursdays so I hope to go a lot now that I can drive," says Chabot.
Chabot has had bruises here and there, and thankfully no broken bones from doing the extreme sports she loves.
"A lot of injuries come into play with these sports, they're the kind you see on the news which result in death," she says.
It's a hard decision for Chabot to decide which of the two sports she enjoys playing more.
"I have a lot of friends I can snowboard with but I'd have to say I enjoy snowmobiling more," says Chabot. "I'm more comfortable with snowmobiling and I love the rush of going fast and being in the woods."
Chabot also enjoys going to preseason shows for both sports to look at all of the new stuff that is coming out. One show in particular that she goes to is the New Hampshire Snowmobile Grass Drags and Watercress.
"I was able to meet a few X games gold medalists such as Levi Lavallee and Heath Frisby," she says.
Chabot hopes to continue her love for both snowboarding and snowmobiling for the rest of her life. She'd like to move up north or out west to get the most out of the winter season.
"These sports are not just a hobby they're a lifestyle," says Chabot.