Chem teacher bonds with students
"AP Chem is easy. It's like riding a bike. Except the bike is on fire, and you're on fire, and everything is on fire, and you're in hell."
This anonymous quote can be found high up in the right-hand corner of Mrs. Valentine's whiteboard in D206. Alongside the quote, her classroom is adorned with many other positive signs to brighten up the day for her students and encourage them to strive for their goals. Mrs. Valentine, our dedicated high school chemistry teacher, even received the Partners of Excellence award, gaining recognition among the science community in Massachusetts.
Becoming a Teacher
Kerry Valentine wasn't always committed to chemistry. Growing up in her hometown in South Florida, she always "wanted to be a doctor" until she attended Smith College to start her path into the workforce. During her freshman year of college, Mrs. Valentine began taking chemistry classes. Her professor suggested that she should tutor other students in chemistry due to her excellent understanding of the material. Taking the professor's advice, she became a tutor.
The world of teaching opened her eyes to something she had never dreamed of doing. Mrs. Valentine happily stated that she was "good at explaining the material" and "made it easy for people to understand."
After graduating from college, she returned to Smith College to teach as a lab instructor for three years. Once her time as a lab instructor ended, Mrs. Valentine was hired as a chemistry teacher at Ludlow High School. Currently, she teaches both Honors and AP Chemistry.
Friends Till the End
One of the most iconic duos in our school can be found in the D-Wing science hallway. Not many students know that Mrs. Valentine and Mrs. Sands were great friends even before they started working at Ludlow High School. Their friendship began when they worked together at a restaurant. Later on, Mrs. Valentine started working at Ludlow, where Mrs. Sands was already employed. From the day Mrs. Valentine was hired and throughout the years, their friendship has grown stronger than ever.
Ironically, these two best friends have classrooms located right next to each other. After sitting down with Mrs. Sands, I gained a better understanding of who Mrs. Valentine truly is.
"She is humble and modest," Mrs. Sands said with a huge smile. "Mrs. Valentine is always thinking of others and is open to everything." She also explained how Mrs. Valentine is a "happy and positive person." Mrs. Sands, along with many others in the community, expressed the joyfulness Mrs. Valentine brings to their lives and to her classes.
Inside the Classroom
Numerous members of the Ludlow High School community, fortunate enough to know Mrs. Valentine, have said nothing but impeccable things about her and her teaching style. I asked fellow students who have had Mrs. Valentine about their experience, and here is what they had to say:
Sophomore Calleigh Foley, from Mrs. Valentine's Honors Chemistry class, excitedly shared that "Mrs. Valentine is a fun and supportive teacher. She keeps the class simple but engaging." Junior Noelle Dionne, an AP Chemistry student who has had Mrs. Valentine for two consecutive years, reported that she "makes even the most uninteresting topics interesting." Another AP student, junior Emma Arocho, who has also been in Mrs. Valentine's class for two years, said, "Mrs. Valentine is super down to earth and just goes with the flow."
After interviewing various students throughout the school, I found a common phrase when describing the atmosphere of D206: "Her room is very welcoming." Noelle conveyed a sense of safety and the ability to be oneself. She further informed me that she "never ever feels unwelcome in Mrs. Valentine's classroom."
Recognition
Not many people know that earlier this year, Mrs. Valentine was recognized for her commitment and dedication to teaching AP Chemistry, an honor that only a handful of teachers receive. She was fortunate enough to be nominated for this recognition among the science teachers.
When I asked Mrs. Valentine about the reasons behind receiving this award, she humbly responded, "I showed real commitment, participated in seminars, and put a lot of effort into teaching the AP class." As she prepared for a lab experiment in the next period, she further expressed her surprise, saying, "I did not expect it at all." Mrs. Valentine also shared her sense of pride, stating, "I am definitely proud of myself." Mrs. Sands added, "Mrs. Valentine got the recognition she truly deserves."
Outside of Work
Like most teachers, Mrs. Valentine leads a busy life outside the walls of Ludlow High School. She cherishes spending time with her husband, Peter, and their daughter, Sienna. In addition to being a teacher, Mrs. Valentine also takes on the roles of Sienna's soccer coach and her gymnastics team coach. When she finds the time, she enjoys baking delicious treats. Most of all, she has a passion for puzzles and brainteasers, mentioning that she always has one on her dining room table.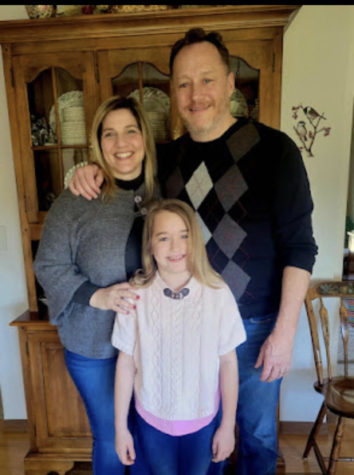 The Love for Teaching
Having been a chemistry teacher at Ludlow High School for approximately ten years, Mrs. Valentine simply can't get enough of it. She acknowledges that teaching can be challenging at times, requiring a significant amount of preparation, but she finds it completely rewarding and fulfilling. Mrs. Valentine's face lights up when asked about her favorite aspect of teaching, as she eagerly responds, "You guys!"
"It's that second year when I have you guys for AP. I form such a great connection with my students," she explained. Mrs. Valentine genuinely cares about her students' well-being and their success in life. "She just wants to see her students succeed," Mrs. Sands added.
Although chemistry can be a difficult subject for students to grasp, Mrs. Valentine consistently puts forth her best effort to ensure her students fully understand the material. She strives to create a warm and welcoming atmosphere for them to learn in. Despite being busy, Mrs. Valentine never fails to give her undivided attention to her students' education.