School Spirit renewed after remote learning
As this long slog of a school year comes to an end, what will you remember most. Having to wear a mask? Prom? Graduation? For many, the answer is simple: spirit week. Dressing up for spirit days, powder puff, pep rallies, and going to sporting events are all fond memories for Ludlow students. But ever since the pandemic locked us out of the classroom in March 2020, some have noticed a decline in school spirit. 
Some classes have poultry participation rates in spirit events, and the constant changes caused by the pandemic these past two years have confused many. However, students and teachers alike are still pushing for school spirit to soar once again at 500 Chapin Street.
School Spirit Has an Impact
Mrs. Ollquist, a Ludlow alumnus who now teaches English, has been a Lion's Pride advisor for over 15 years. One of the club's main responsibilities is organizing spirit week events here at the high school. Ollquist joined the club because of what she heard from students.
"Mrs. Gauvin and Mrs. Ziano called me one day in the summer, they wanted to foster more school spirit," Ollquist recalled. "We had students who loved being here at our school who just wanted to get involved with more school spirit." 
Ollquist and the other advisors wanted "to foster more class unity," and introduced the idea of class colors and competitions.
By these standards, Lion's Pride has been successful in its efforts to expand school spirit. As she hurriedly stored books, Ollquist proudly reflected on what Seniors have said over the years during their class history speeches.  "A lot of them talk about powder puff, pep rally, spirit days," she said with a smile.
Students, such as senior Leo Laguerre, agree: "My favorite memory was probably the powder puff games because I got to dress as a cheerleader and loudly cheer on my classmates."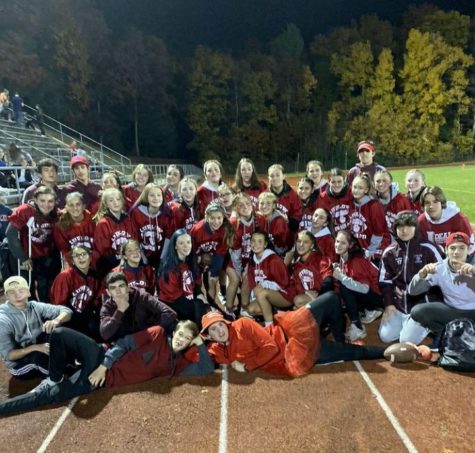 Bringing the Spirit Back
This loud, unabashed pride and spirit, is not universal, however. Many students pass off school spirit as an unimportant charade. Junior Matthew Favata had some strong words when asked about his school spirit. "I find no benefit in dressing up like a clown," Favata explained, adding that he sees spirit week in its current form as a "waste of my time." So how can students like Favata become convinced that school spirit is worth it? 
Ollquist admitted that school spirit has declined since COVID, but says that students want more. She explained that the adjustments made in the past few years, such as the tents during spirit week last fall were a success and that the school needs to "continue the momentum" from this year's successful events.
Another way to improve school spirit is through athletic events. Tim Brillo has been the athletic director at Ludlow since 1993. He laments the lack of organized spirit at athletic events since COVID. 
"Before COVID our fan sections were extensive and positively involved in the game," he explained. "Since COVID student attendance at games has been good but there has been no organized fan section like we saw in the past."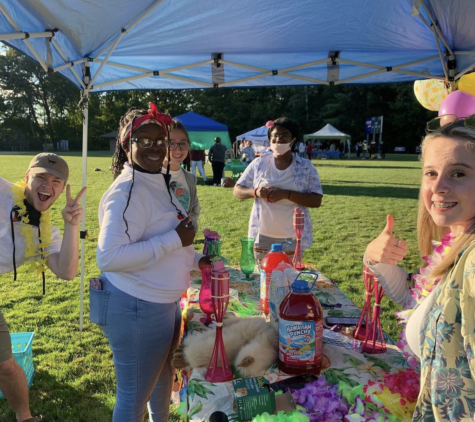 Brillo suggests that students "organize fan sections and hold theme nights" to boost attendance and school spirit. The athletic department has also moved to make games more accessible for students, such as offering free admission for students to the boy's volleyball playoff game on June 2. 
Students also have ideas for improving school spirit. Favata, who is a student-athlete for the hockey and baseball teams, agrees that having more fans in the stands would make his experience "more fun" and help his teams win games. He also called on the Lion's Pride Club to have more student involvement in deciding on Spirit Week themes. Favata declared "have students vote!" when asked how school spirit days should be decided. When asked if he would participate more in Spirit Week if there was more student involvement in the planning process, Favata answered with a matter-of-fact "yes."
Students have suggested several possible new spirit week themes. Favata offered up the idea of Pajama Day, claiming that it would be popular as "half the school population already wear pajamas to school anyway." Still, some current spirit week activities remain popular, such as powder puff and the overall idea of battle of the classes. 
"Don't Be Afraid"

"

Even if the rest of your class doesn't, they'll eventually come around and be just as loud and crazy as you"

— Leo Laguerre
Ultimately, our school spirit environment is fostered by students, not class advisors, teachers, or athletic directors. Laguerre encouraged underclassmen to get involved in school spirit. "Don't be afraid to be loud and show school spirit," he explained. "Even if the rest of your class doesn't, they'll eventually come around and be just as loud and crazy as you." 
Ollquist echoed these sentiments. When our conversation turned to what students can do to improve school spirit, she stopped putting away books and instead focused entirely on her message, thinking about every word. "Don't be afraid" she stated, adding that "you are in charge of your own high school experience…you can choose to participate and have fun."