LHS's NHS Requirements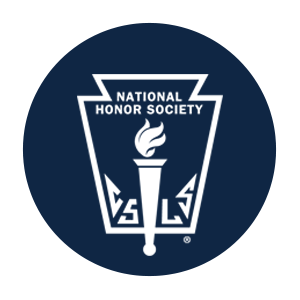 Seniors and juniors interested in joining Ludlow High School's chapter of the National Honor Society (NHS) should make sure they meet all of the requirements by Nov. 2, the end of the first marking period and when NHS advisors, Shannon Anderson and Brandi Stratton, begin compiling a list of upperclassmen who maintain a 3.50 (not rounded) grade-point average or higher.
NHS is a nationwide service program which supports its local community through its four pillars: scholarship, community service, leadership, and character.
"Together with fellow students, [LHS's NHS] members collectively complete service projects that give back to the community," said Anderson. "We enjoy working together to help others, spreading awareness, and strengthening our community."
The LHS chapter of NHS meets twice a month whenthey discuss and organize projects to raise money, supplies, or awareness to benefit the local community.
If students meet the GPA requirement, says Anderson, they will receive a letter inviting them to apply to NHS. From there, students have the choice of whether or not to obtain an application and apply.
"Applications are typically due around Christmas break," Anderson states.
However, an unrounded 3.50 GPA is not the only necessity for being accepted into NHS. Students must have a long-term service project, consisting of over 20 hours of service and lasting over a period of at least two months, and two short term service projects, each consisting of less than 20 hours and lasting for a period of less than two months.
Along with volunteer work, Anderson also says "students must demonstrate that they are a leader in school, the community, or in other ways" and "must be a member in good standing in two school clubs or organizations."
Students must also complete an essay prompt  which they will receive along with their application.
Proof of service work, leadership, involvement in school organizations, and the essay will be due some time around Christmas break, a specific date will be released at a later time.
After applications have been submitted, a select group of faculty members will review the applicants and determine who will gain entry into the chapter.
The Nov. 2 deadline for a 3.50 GPA is heading here fast! So start making a list and checking it twice to make sure you have everything needed for the application process.