Dias Does it All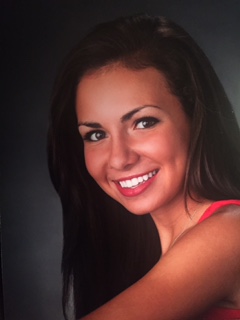 Brooke Dias is the definition of a One-Woman Show. She seems to do it all: she juggles five AP classes, competes in three varsity sports, and leads the National Honor Society and Interact Clubs.
With a 4.612 GPA, Dias is ranked first in her class. She takes A.P. Biology, A.P Government, A.P Physics, A.P Literature, and A.P Calculus. Her hardest course is A.P Gov.
"It's hard to get an A in that class," says Dias, "But so far I like it; it's a discussion-based class." The rigor of her course load leaves her with almost a full schedule. That's right, she doesn't have a DLT everyday. It's hard to believe that she doesn't spend her afternoons solely doing homework.
Brooke runs varsity cross country and varsity track. This year she will also be running in the new indoor track program. She is captain for all three sports.
"Brooke has all of the qualities that make a good captain; she's organized, motivated and kind to everyone on the team," says fellow XC teammate Emily Alves, "Brooke makes being a part of the cross country team even better."
Sports aren't her only extra curricular activity. She is president of National Honor Society and Interact Club. She also participates in Portuguese Club. Dias is on the State Student Advisory Council. The S.S.A.C is a group of students elected by their peers who help make decisions about state education policies and students rights.
Volunteering is also an interest for Dias. She works with Keystone Commons to help out residents, most of whom have Alzheimer's. Occasionally she volunteers for the Rotary Club when she is needed for their events. Among all of her other volunteering she tutors a fourth grade and third grade student. Not only does she tutor them but she teaches them how to swim as well.
Although she is looking forward to college she misses her junior year. She found it a lot easier and didn't have to deal with the stress of college and application deadlines. Her dream schools are Brown University and Dartmouth College. Tufts University is also in her interest because they have a great medical program. Brooke knows that she wants to have a career as a medical doctor but she isn't sure what kind yet.
In her miniscule amount of free time Brooke enjoys drawing and painting, she is a talented artist. She is also a musical artist. She plays the ukulele and piano. Her favorite song to play on the piano is Ancora by Ludovico Einaudi. Surprise, she can also sing. One can catch her singing along with the songs she plays on her instruments.
Brooke is a well-known fashionista at LHS. "She has a unique style and can pull off a lot outfits that not many can," says classmate Carley Moniz. Her favorite stores to shop at are Marshalls and Guess. "I like anything with weird patterns," says Dias, "I love different clothing that's unique."
Having such a busy schedule doesn't leave her with much time for Netflix. But a few of her favorite shows are The Big Bang Theory, Bones, and Nova. She also often watches Who Wants to be a Millionaire with her family when they are eating dinner.
Spending time with her friends and family is also important to her. She enjoys watching movies and the news with her dad and cooking shows with her mom. At family parties they play volleyball, eat food and hang out by the fire. When she's with her friends she likes to try different restaurants, go to the movies or go to an LHS sports game. "She's always there for me when I need her no matter what the issue is," says friend Autumn Maynard, "She gives great advice and is a great support system."
Her advice for freshmen is to not be afraid to challenge themselves. "Do the sports you love, or participate in the clubs you love, even take the subjects you love," says Dias, "Take more advanced classes if you ever feel yourself thinking a class is easy. Challenging yourself will only make you better. Don't be afraid to give up free time because being busy is a lot more fun than sitting home and doing nothing."
While on the surface Brooke's lifestyle looks jampacked she uses her time to do everything she loves. "Being busy is a lot more fun than sitting home and doing nothing," says Dias. She has found a great balance between school and social life.