Nathan Zucco: putting others first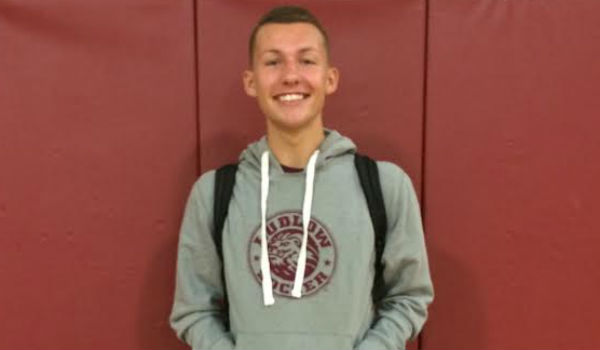 Eighteen-year-old senior Nathan Zucco looks comfortable in his maroon summer league soccer shirt and his black soccer shorts. Standing at about 5'11 he is relaxed with his hair falling flat, with no product in it, looking as though he put more than just a hair brush through it. Hazel eyes. Outgoing. He never stops joking with anyone and is hard to take seriously, but he's as loyal as they come. Compassionate. Athletic. He gives all of his time to others before he gives it to himself.
Nate started as a counselor in training during the summer going into his junior year at The Ludlow Boys and Girls Club and has now worked there for a year and a half. He enjoys going there after school and working from 2:30 to 5:30. He has even had his proudest moment at work, when a little girl came up to him and told him something he would never forget: "You will make a good dad."
Since that moment in last May, those words have never left Zucco's mind. He hopes someday to become a great dad as well as a full time dentist, working for someone else.
Zucco hopes to attend a four year college and complete his doctorate in order to take the steps needed to become a full time dentist. He also hopes to continue to work at Ludlow Boys and Girls Club as long as he is not dorming, but if he is, he hopes to intern at a dentist's office.
His dream in life is to marry a beautiful woman, have a couple of kids, and live in a house that's big, but "not too big."
"Money has never really had much of an importance to me. You can't buy happiness," Zucco says. "But I do like having money be part of my goal in life, along with being successful and having fun."
He also has a goal to achieve in school: graduate from Ludlow High School with Honor Roll for all four years in all four terms and recieve the gold cord that will drape on the gown as he walks across the stage. As of right now, Zucco is still on track for completing his goal.
"My older brother Nick did awful in high school, but he has always been my biggest motivation." he says with a smile. "He follows up with me on my grades. He doesn't want me to make the same mistakes that he did."
Zucco works hard for the good grades that he receives, and thanks his teachers for being so understanding.
"Miss Cook is probably my favorite teacher, even though this is my first year having her," says Zucco. "She is really understanding, caring to what we have to say, and gets opinions from the student perspective."  
Nate puts most of time into school and work, but he also puts many hours into the sports that he plays.
He has been playing soccer since he was in Kindergarten and says, "I still get nervous when I am on the field," he says. "but I never let it stop me from having fun and being a positive influence for my teammates.
Zucco has a busy schedule, but he manages to make time for his friends.
"I usually hang out with the squad, consisting of me, Matt Cieslak, Hannah Goncalves, Parker Nelson, and Mia Jeronimo," he says. "When we hang out, it typically varies from watching movies, and going out to eat, but we hang out a lot more in school."
Friends come second to his job. He loves being able to get extra hours at work.
"I love my job so much," he says passionately, "but the kids aren't the only great thing about my job," he says. "I also really love all of my co workers."
Since he has began working at the club, he has made a lot of really close friends there, such as Alicia Ferreira, Alyssa Russo, Connor Doherety, Tim Cardaropoli, Zack Dowling, Ben Sousa and Taiana Hoeckh.
"He is outgoing and a really good and loyal friend," says Alicia Ferreira. "As for a co worker, he is dependable, intriguing, and definitely very good with the kids. He always knows how to put a smile on someone's face and make them feel better, whether it's a co worker or one of the kids."
When Zucco finds time to himself between work, school, and friends, he enjoys spending his time looking at cars and going car shopping, both online and in person, even though he already has his car, a 2005 Mazda 6.
Even with this busy work and school schedule, Family is also very important to Zucco.
"If I had the choice to live anywhere in the world, I would choose anywhere in the world, as long as my family is near me," says Nate.
His parents are Kathy and Rich. He has three siblings: Nick, 22; Kyle, 15; and Lizzie 9. He also has a German Shephard, Charlie.
"I love being able to get a ride from him every morning to school, even though he always makes me tardy," says his younger brother. "He also gives me a good guideline on what to do and what not to do in life."
Reflecting back onto his life Zucco wishes he could go back to all of the fun moments through high school.
"My favorite moment I wish I could go back to was Prom 2015," he says. "I went with Lanna. We won Prince and Princess together. We had so much fun going together we definitely made the best of the night."
Zucco tends to make the best of everything, according to his friends and family. Yet despite this, like most people, he still feels insecure at times.
"I hate when I get the feeling that I am not good enough for anything like people or even for my job," he says. "I always try my best to make people happy and I feel awful when I can't always give it my all."