A Decade of Entertainment, In Review
The end of the year has blown by us, as well as the decade. These past ten years have brought some incredible changes to our society, both good and bad, and entertainment has been no different. The movies and TV shows from the 2010s have impacted and shaped our childhoods greatly, as well as the many forms of media, and it is important to look back on those most memorable during this past decade. 
The decade began the popular show The Walking Dead, which is a horror TV show that depicts the horrors of a zombie apocalypse and a group of survivors and their journey to safety. The Walking Dead was originally a comic book series and when it made it to television, it was immediately a hit. The show has been running for 10 seasons.
Ludlow High School Senior Genivieve Bailey-Hanson has watched The Walking Dead throughout its entire run, and says she loves "the Walkers, Carl, and the drama the writers tie into it, along with the relationships between the characters and the suspense that is created."
Another successful TV show was the Disney Channel classic, Hannah Montana, which portrayed the exciting and often humorous double life of teenager Miley Stewart, regular girl by day and superstar by night. The final season aired in 2011, and the show's ending impacted the rest of the decade, with other Disney shows competing to fill its shoes. To many, Good Luck Charlie was a show that did just that, premiering on Disney Channel in 2010 and living to see four seasons. The show revolved around Teddy, the oldest sister, who made video diaries for her little sister Charlie to learn lessons from as she grew up. The show conveyed the typical arguments mixed with light-hearted fun, as expected from a big family. 
Junior Bretton Haryasz fondly remembers this nostalgic era of Disney TV: "I loved [Hannah Montana] because it was funny and entertaining and an all around good show that is somewhat relatable with teenage drama and the fun of Hannah Montana hiding her secret." 
Junior Jessica Dobek added, "I really liked [Good Luck Charlie] …I thought Teddy's room was super cool because it had a sliding door and it was in the basement and her bed is like a lofted platform. I also thought it was really funny."
Jane the Virgin is a drama TV show that made its big debut in 2014, which depicts the struggles the titular character Jane has to face after a doctor accidentally inseminated her with the sperm of another patient, getting her pregnant. Jane's world is turned upside down and gets crazier as the story progresses. The show focuses on many real-world issues like unconventional family dynamics and stark contrasts between healthy and unhealthy relationships. The show concluded in the summer of 2019, wrapping up the story neatly and leaving viewers satisfied.
"I love Jane the Virgin because the series is about a girl who, in theory, had done everything right," said Junior Marissa Balbino. "She had the best grades, stayed out of trouble, and remained a virgin, staying true to her Catholic Hispanic culture. However, it is so great because everything does not go exactly as she planned–obviously!"
The biggest TV show of right now is by far the infamous Stranger Things, which combines popular television tropes with sci-fi and horror elements that have hooked viewers of all ages. The TV show aired in 2016, and there has been a total of three seasons so far. The show follows a group of kids from Indiana in the 1980's, who unravel government secrets and unknown supernatural forces on their search for the truth. 
"Stranger Things is overall one of the best series that came out of this decade," says Junior Sonja Swimm. "The characters made the series unique and completely loveable. The newest season especially got me hooked. What I love most…is how they perfectly throw in '80s movie references while still creating their own story to follow."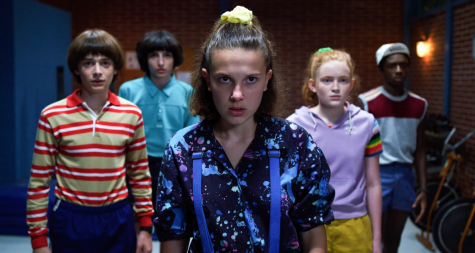 Queer Eye is a reality TV show that premiered in 2018, starring a team known as "The Fab Five," five gay men that specialize respectively in the fields of fashion, personal grooming, interior design, food and culture. Each episode focuses on a member of society, typically in a Southern American state, who needs physical and emotional life support. The Fab Five will teach them new life skills, provide them with impactful lessons, and provide them with a full makeover — and that includes their house! The show is a reboot of the early 2000s show Queer Eye for the Straight Guy, now with a more diverse cast and heavily emotional discussions. Four seasons have been aired so far, plus four special episodes that take place in Japan.
"I like the show because of the LGBT+ representation and the bonds they create with every person they help," Junior Jolie Gaffron says of Queer Eye. "Also, there are five different sections they help with so you get aspects of five different shows all in one."
Adds Senior Olivia Dinis, "The main goal of the show is just to make people feel better about themselves, so through the process of watching the show, not only do you watch people grow and gain confidence, you realize that you've grown as well."
The decade also brought a slew of successful movie franchises, some even starting off the decade with a movie and ending it with a sequel or even multiple. We have grown up on the Disney classics, and every year the company expands and spits out more incredible movies and TV shows. Toy Story 3 was released in 2010, attracting long-time Disney fans that loved the first two, and Toy Story 4 made its debut in the summer of 2019, concluding the franchise with nostalgia and a sweet ending.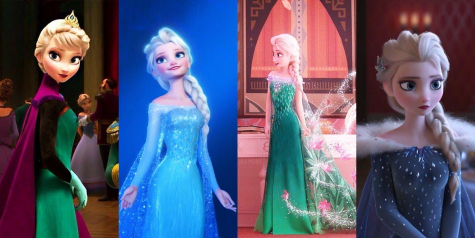 In 2014, Disney also released the immensely popular movie Frozen. A fresh new spin on a princess story, it left people singing the songs for months afterwards, and the film became the highest grossing animated movie of all time. Inspired by the success of the first movie, a sequel was created and brought to theaters in December of 2019, delivering more catchy bops and ending the year on a satisfying note. 
Throughout the decade there have been various YouTube trends that have been catching the attention of millions. One of the most popular trends has been "mukbangs." Mukbang, also known as muk bang or meokbang, is a live online audiovisual broadcast in which a host eats foods while interacting with their audience. Mukbangs first originated in South Korea, many years later Americans started this trend on YouTube such as Trisha Paytas and Steph Pappas
Mukbangs blew up because of the relaxed and personable setting in which audiences felt as if they could relate to their favorite influencers. People also enjoyed seeing what their favorite YouTubers thought of the newest fast-food items. Plus, anything with food is enjoyable.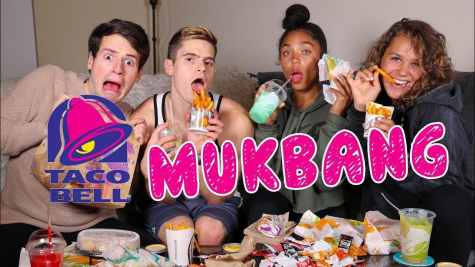 Another popular YouTube trend was 'Answering your assumptions about me' which circulated around YouTube for many months. This trend was started by Avrey Ovard on January 5, 2019. The purpose of this video was to show audiences that what they often assumed about their favorite creator was not necessarily true. Ovard had wanted to clear up questioning on her character that her viewers had expressed, so she made this video. Eventually other popular creators such as Hannah Meloche who currently sits at 1.8M views on her video and Manny Mua hopped on this trend to show their viewers their true character and to clear up misconceptions. 
The decade leading up to 2020 has been one of progress and learning, as well as many great improvements regarding technology and entertainment. With many new TV shows and movies emerging, there has also been the broadening of many diverse topics such as more representation for LGBTQ+ community and other minority groups, documentaries regarding politics and the environment, as well as many light-hearted films. It is exciting to see what new inventions and media awaits us in 2020 and the new decade!
View Comments (1)