Clubs promoted at LHS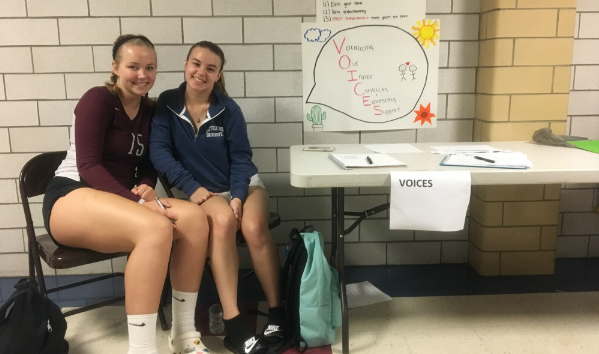 The annual Club Fair took place Sept. 14 outside the cafeteria during all three lunches where club officers and participants were able to share information and recruit new members.
The clubs there include the Drama Club, Acapella Club, Gay Straight Alliance, Faith club, Photography Club, Games Club, Bowling Club, NHS (national honors society), Best Buddies, Voices, and the Interact Club.
"Voices" is a new club started by seniors Casey Dempsey and Julia Forrant, who serve as the clubs co-presidents.
"It's a safe space for people to talk about their problems," said Forrant.
Voices was inspired by the show 13 Reasons Why. Members participate in "social games," and work on mental health, while giving support. Every member must submit a permission slip signed by parents and the members themselves stating that everything said during the meetings will not be repeated or "there will be consequences."
Best buddies is a club that helps the students at LHS with disabilities by offering after-school activities, field trips, and fundraisers like the Best Buddies Fair.
"It's builds character," says senior Destiny Lavertue.
According to Martha Queiroga, Interact Club Advisor, the club is based on "helping people in need." This club does many types of community service activities like hosting fundraisers and organizing various "marathons" to help raise money for those in need.