Senior Show Recap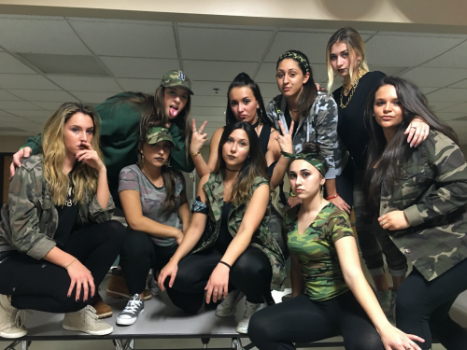 Each year LHS seniors perform a senior show filled with music, dance, and comical skits. This show is always a creation of their own, with students writing their own skits and choreographing the dance routines.
This year's show was no different. The seniors charmed the crowd with their humor and theatrical talents. Here are a few performances that gleamed throughout the show.
Jennifer Saloio and Brooke Dias' performance of "Forever Young" by Bob Dylan.

The mixture of Saloio's melodious voice and Dias's nimble piano work was heavenly. The crowd was in pure silence for this performance and gave the girls a large round of applause. "This song was special for me," says Saloio, "I performed it as a tribute to my late grandmother."
The Boys and Girls dance numbers.

For the major dance numbers the seniors decided to kick it old school with a mashup of popular songs throughout the decades. For each decade a small group of kids, decked from head to toe in their decades attire, each performed their own dance and then all joined together at the end to dance to a song from today's hits. "It was fun to dress up from my favorite decade and dance with my friends," says Andrea Taylor.
Sean Nugent and Zoe Frangules' political debate skit.

In this skit Nugent played Republican candidate Donald Trump and Frangules played Democrat candidate Hillary Clinton. They both played on the candidates' downfalls like Trump's immigration platform and Clinton's email scandal. But the funniest part was Dylan Gagnon's performance as Bill Clinton. His continuous repetition of "I did not have sexual relations…" in Clinton's voice brought laughs from the audience. "I liked dressing up for this one and acting out the situation with Dylan was funny," says Frangules.
Nugent as Mr. Bly in the teacher jeopardy skit.

Nugent had the crowd laughing from the second he walked out on stage in a bald cap and flexing arms. His jokes on Bly's love for wrestling and his loud voice sent giggles through the auditorium. "It was fun playing one of my previous teachers," says Nugent.
Nathan Zucco, Sydney Scyocurka, Zoe Frangules and Stephanie Guillen in a soccer mom skit.

These seniors took the term "soccer mom" to a new extreme by having their newborns begin practicing soccer practically right out of the womb. "This skit was definitely my favorite," says Scyocurka, "It made a lot of people laugh and was easy and fun to perform."
Jalette Mena performing as Steve Harvey.

Throughout the show Mena would take the role of Steve Harvey and accidentally read the wrong names for situations like the naming of prom queen and valedictorian.
In the video below clips from all of the performances listed above are displayed in order beginning with Saloio's singing and ending with Mena's Steve Harvey prom queen skit.