LHS library gains a new look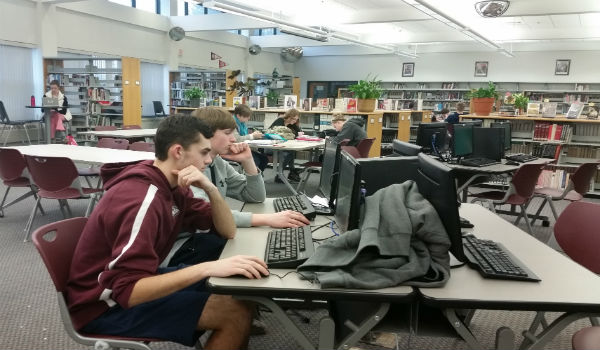 With the help of a donation from the Joseph and Anna C. Dias foundation, the library expanded by adding new furniture, flat screen monitors, a new projector along with a new LCD screen and $5,000 worth of new books.
Jamison Hedin, librarian at LHS, said the new look has received positive feedback.  "We also have a really great senior class and they're very respectful of the furniture. I think that really set a great example for the lower classmen."
She won't be adding anymore furniture since they took out the shorter book shelves that were in the middle of the library to fit more tables and chairs. The book shelves were given to the math department for the book room and Vets Park.
Hedin is also proud to announce that they are getting more nonfiction, fiction and comic books.  Manga is very popular, especially when she orders new books to a collection. Divergent and John Green books are also very popular since the movies for them have been recently released.
Books were chosen based on requests, reviews, series, "read-alikes" (books that are similar to others) and awards.
"I think it's important for them to get publicity," said Hedin, referring to award-winning books.
There is still money left over which Hedin plans to use for more books and possibly more technology. She also asks that if any students had more suggestions that they should go see her and let her know.