Interact Club Expands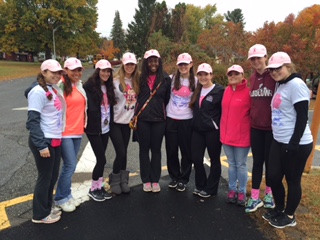 Interact club is back and better than ever. After the loss of their longtime advisor and founder Jessica Czuprynski in 2013, the club struggled to keep it going last year. The club has a little over 30 students this year.
Interact meets on Wednesdays right after school in advisor Mrs. Roy's room, E003. During the meetings members discuss events that they are planning on attending. For example they just participated in the Rays of Hope Walk at Forest Park, held on Oct. 25.
"We walked the two mile course," says member junior Carley Moniz, "It was a lot of fun, despite the rain."
Members also frequently volunteer at the Indian Orchard Survival Center. They organize food items and stock the food pantry, as well as hang up donated clothing for the thrift store.
Not only do they participate in communal charities but they bring them to LHS. Earlier this year they held their annual Suicide Awareness Week. They emphasized the importance of sharing random acts of kindness by having students pick random acts of kindness out of a bin at lunch.
They also hope to hold their Toms One Day Without Shoes event soon. This is when students walk around school without shoes for one day for the people in third world countries who don't have shoes.
The club is attending an Interact convention in the spring. They will be recognized for their achievements along with other high school community service clubs.
It isn't too late to join. "Students should join Interact if they have an interest in getting involved in community service projects with our local community," says member Katelyn Nelson, "Also if they have any ideas on projects that they'd like to see take place."