Top three seniors in the running for valedictorian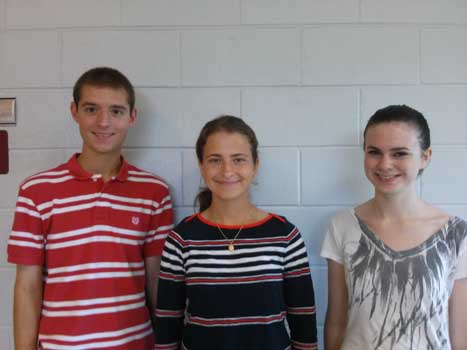 As seniors begin their final year of high school, three students continue with remarkable success in remaining the top three ranked of their class. Brandon Nowakowski, Sylwia Lipior, and Shannon Crowe share their experiences and perspectives of the past three years at LHS and their goals for the future.
 For Brandon Nowakowski, the grades that come out of the work aren't as important as the amount of effort that is put in. Nowakowski states that he isn't "obsessed with getting grades," but he wants to present his best work and be proud of it when finished. He feels that it's not his top priority to become valedictorian, as long as he is satisfied with what he has accomplished.
Nowakowski has always been relatively smart and he's been organized for as long as he can remember. He is constantly organizing get togethers with friends, making to-do lists, and planning out what he will do for the day. For example, last year Nowakowski  planned for him and eight friends to go to breakfast at Bobs before a MCAS day.
"I work hard and I'm very organized. I don't procrastinate. I always have a to-do list," he said.
For Nowakowski, getting randomly chosen for The Superintendent Search Committee and having the honor to be on it, is a big accomplishment for him. Also, he has participated in tennis since he was eight, and as a freshman he started off on the LHS tennis team. He says that it gives him less time to "screw around" because it "puts more pressure on him to get his work done."
When asked what his goals were for senior year, Nowakowski said that by the end of high school, he doesn't want any regrets.
"I want to be ready to go into the world and live each day without regrets. I always say that if this is the last day that I live, would I have any regrets?"
Shortly after the question he followed with, "Some say this is too pessimistic but I say it's my carpe diem speech."
As far as colleges go, Nowakowski is looking toward UMass and his former chemistry teacher, Dianna Sands, is pushing him to apply to Harvard. He is hoping to become either a math or music teacher. Nowakowski is currently teaching private saxophone lessons to middle school students on the weekends.
"I want to make a difference. It's something I just enjoy doing. The moment when a student really gets what you're teaching them — it's rewarding," he said.
One of Nowakowski's biggest challenges is prioritizing. He states that he has "a hard time saying no'" and he tends to be "over involved." Nowakowski has had to get rid of things in the past, such as math club, because of his other priorities.
To freshman Nowakowski would say "Don't mess around freshman year; those grades count."
 For Sylwia Lipior, grades and sports are top for her. Lipior says that she really likes to learn and understand new things.
Lipior says that her parents have raised her well and are very smart, and she believes that this is a big factor to her good grades. She says that now she is independent, she doesn't need her parents to keep up with her on her school work and now it is mostly expected from her.
Lipior is a lot different now from how she was when she was younger. When Lipior was little, she struggled a lot with school.
"My kindergarten teacher actually told my parents that I wouldn't do well in the future."
As a freshman, Lipior got her first big accomplishment when she ran the record for mile in track. Also, as a junior, she made it to states for cross country. Lipior has been doing track with LHS since freshman year and cross country since sophomore year.
Lipior's goals for senior year is to continue to stay at the top of her class.
"For senior year I want to keep up with the good work and keep up with sports at the same time," she said.
As far as colleges go for Lipior, she is looking toward UMass, Boston University, Brown, and Duke. She would like to major in pre-med. and do her residency in sports med. Lipior is hoping to become a primary care sports physician.
A big challenge for Lipior was when she came into LHS as a new student in November of freshman year. It was hard for her to adjust and make friends at first. AP chemistry was a difficult class for Lipior because of "the amount of hours devoted toward class."
Lipior's advice towards upcoming freshman is,"Do your best, work your hardest, don't get wrapped up with a whole bunch of school work, but still stay focussed. When looking at jobs and colleges make sure you find something that you are passionate about and don't just do it for the money."
"It just comes naturally to me I guess," said Lipior.
Like Nowakowski and Lipior, for Shannon Crowe, intelligence runs in the family. Crowe has always been very smart throughout her life. In kindergarten, Crowe even went so far as to actually ask for homework.
"I saw that my older sister was given it, and I wanted it," she said.
Crowe tries her hardest with work and she enjoys the outcome when a good project or test is handed in.
When asked what a big accomplishment for Crowe was, she immediately replied with,"I'm proud that throughout all three years I have received A's in school and I got the top point score on math team."
Making it to Ice Dance Nationals was another big accomplishment for the senior. At nationals, Crowe had to perform set routines on ice, for example, the European waltz, foxtrot, and 14 step. The judges looked at expression of music and technicality and Shannon was one of six to be chosen for qualifying round.
For senior year, Crowe hopes to become valedictorian if possible and she would like to be accepted into her top colleges.
Crowe's top two colleges are Northeastern University and Yale. For a career, she wants work with international finance or be a actuary, working with risk factor and mortgage.
One challenging class for Crowe is AP English because she is "not the best writer, and not very creative."
Crowe's advice for upcoming freshman is, "Freshman year counts, don't slack off because it can affect your GPA, if you keep up with school work and try hard, high school is not as bad as it may seem."
Crowe  also added in, "Well I guess I try hard and I really care about my grades."