Cub Editor-in-Chief says goodbye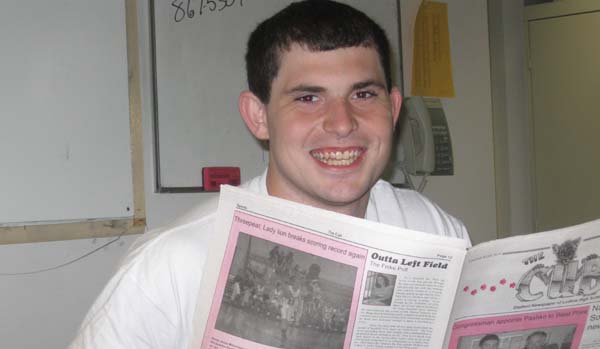 It's been a long four years, but at last its finally time for me to say goodbye to Ludlow High and The Cub. My journey with the student newspaper of LHS has definitely been very rewarding and quite the roller coaster ride. 
It began with my freshman year, I was coming from a school, St.John's, where we only had 21 kids in the eighth grade, into a class of over 200 students.  Needless to say, I was a little nervous.  However, I quickly found my place in room B201.  I have always had a strong interest in writing, and the idea of being part of a newspaper was intriguing.  Freshman year was a little difficult, as our advisor Mr. Cangemi, had to teach two classes at once, and I struggled at first with getting stories together. 
Over time, journalism got easier and more enjoyable.  New responsibilities such as being an apprentice, then a managing editor kept me interested, and the feeling that the product we were delivering to the people was worthwhile.  I got the opportunity to interview some very interesting people in the LHS circuit including Dr. Theresa Kane, Police liaison Officer Paul Dobek, LHS alum Steven Muse, and of course a copious amount of entertaining teachers that instill the pride of being a Ludlow Lion. 
There are many I'd like to thank for helping me to be successful on this journey.  First of all my staff.  You all were more helpful to me than you could ever know, and without you, the great metamorphosis of collaborative effort into publication could not happen.  I'd like to thank my advisor, Mr. Cangemi, for being there all four years and providing a sense of responsibility, stability and encouragement to do better.  To the editors before me, I thank you for showing me the right ways to lead and show pride in what we were doing. 
And a special thank you must go to my readers, as all I have done in journalism has been in effort to get stories to you.  I hope you enjoyed it. Thank you all, and stay classy Ludlow.
And now I leave the editor's responsibilities to Samantha Godding, and I wish her all the luck possible for the future.  Going online was a big step forward, and I hope it was the first of many good things to come.