Track team wraps up season
As the school year concludes and summer is on the horizon, spring athletic season is coming to a close. Many memorable performances were shined on in multiple sports including winning the league for the girl's track team and many wins and personal records for the boy's track team. 
Here are some of the most memorable moments of the 2022 track season:
Jacinda Hewes completed the two-mile with a time of 13:42.2. 

Kayla Bourcier with a breakthrough time of 13.4 in the 100-meter dash.

Elena Chaplin in the 200 with a qualifying time of 28.3 and finishing in second place at West Side.

Elena Chaplin with a personal best of 38.8 in the shot put qualified her for divisionals. 

Isabella Provost qualified for state sectionals in the pole vault with 8'0".

Micheal Gilrein won 1st place at the West Side meet with his season-best of 123-0.

Aaron Stasiowski with a personal best time of 66.4 in the 400HH.

Yuho Jang placed first in the 110HH with a qualifying time of 17.8.
With only having five regular-season meets, the girl's team was able to pull through and win the league after a successful win at Chicopee High School.
"
I loved outdoor track. The energy was so positive and I loved doing my events and just being around my friends
— Senior Jessica Yoingco
Along with having regular meets, the track team also participated in the Steele Relays. The Steele relay is when every event becomes a relay. For example, the 800 became the 4×800 and the 200 became the 4×200.
Steele was a huge success for the team including many personal records and many of the LHS relay groups placing at the top ten including our 4×400 girls relay placing second place and the girls shot put placing fourth.
Winning wasn't the most important part of our season, however. The most important part was coming together as a team and learning how to be a better athlete and student.
 "I learned many life lessons and factors, especially patience, and have also learned to push through roadblocks that you may come across," said sophomore Elena Chaplin.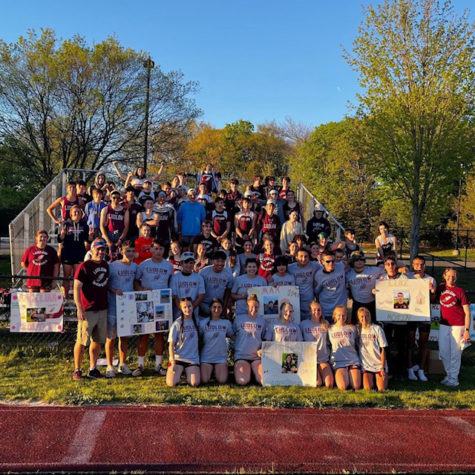 Elena was the team's all-star thrower this season qualifying for divisionals with her impressive shot put, discus, and javelin throws, and will continue to states in shotput.
The team didn't have many meets, but the track and field team had a bond stronger than ever. With multiple team bonding moments including the annual Elsie run and our easter egg hunt. The track team was able to come together at practice and meets. 
"My teammates have always motivated me to do the best that I can," senior Lilly Przybyl adds "The atmosphere has always been really positive, so everybody wants each other to succeed." 
Personally, being a part of a huge team like this has been a huge honor. Joining track was a way to make new friends but also be a part of something huge. It didn't feel like a big pressure to do track but instead, it felt like an honor.
Many other athletes feel this way as well.
Senior Jessica Yoingco comments, "I loved outdoor track. The energy was so positive and I loved doing my events and just being around my friends." 
As the season concluded, the team said goodbye to our class of 2022 teammates during the last meet at Chicopee High School. 
So, what happens next? There's postseason for the track and field team where those who qualified will continue on to Western mass, divisonals, States, and New England nationals. Ludlow has some athletes who have continued on to the postseason after qualifying in their respective events.