LHS Athletics Updates
What's new with LHS athletics?
As November approaches, fall sports are winding down and the winter sports season is just around the corner. During this time of transition, LHS athletics has announced new events.
LHS Uno Fundraiser
Recently, a fundraiser was announced to raise money for LHS athletics. To participate in the fundraiser, go to the UNO on Boston Road in Springfield and present the flyer pictured below to your waiter. The flyer can be presented as a paper copy or digitally, but only applies to the Boston Road location. 
The fundraiser applies every Wednesday for the duration of the school year and applies to both dine-in and take out orders. After ordering your meal, 25% of your check will go to LHS athletics, which has the potential to raise lots of money throughout the year. 
UNO reached out to Mr. Brillo with the idea of the fundraiser, and he happily agreed. Since LHS athletics has to pay for team jerseys, events, and other costly items, the fundraiser will raise much-needed money to cover these expenses. 
The fundraiser creates a win-win for both LHS and UNO. "I think it is a great partnership, UNO generates business and LHS athletics receives financial support," said Mr. Brillo when asked about the fundraiser. 
LHS Track and Field Records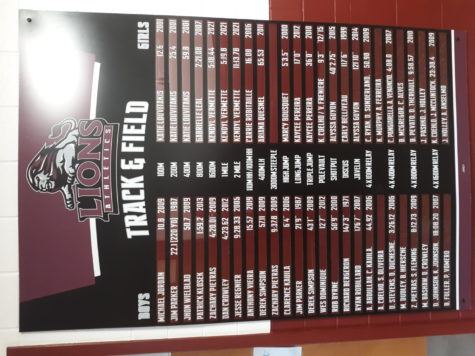 Recently, a new sign was added near the gym that depicts the school records in track and field. The sign, located right outside Mrs. Gauvin's office, shows records as recent as 2021 and as old as 1971. As more records get broken in the future, more updates will need to be made to the sign.
Regarding the new sign, LHS senior track-star Lance Tomlinson said, "I think the new sign not only looks nice, but it gives more attention to the sport of track and field and its history in our town."
Winter Sports Registration
Winter sports registration has begun. Athletes need to register before November 21st in order to avoid a $25 late fee. As in previous years, eight graders are allowed to register for wrestling, JV ice hockey, JV girls basketball, and swimming. 
Due to the facility restrictions at Smith College, the indoor track team will not have a formal season and sign ups will be for conditioning only. Typically, the indoor track team would have their meets at Smith college, but due to facility closures, they are unable to have their meets there this year. The season will prepare athletes for outdoor track or any other spring sports they intend to participate in. 
Three-year indoor track veteran Aaron Stasiowski expressed his disappointment in the lack of meets this year, but acknowledges that it is important to stay in shape during  the winter, in preparation for spring sports. 
Junior Alex Brown added that, although he would have liked to have had meets during the indoor track season, he was excited for the opportunity to train for the outdoor track season with Mr. Walsh.