LHS swimmers to compete in Western Mass Meet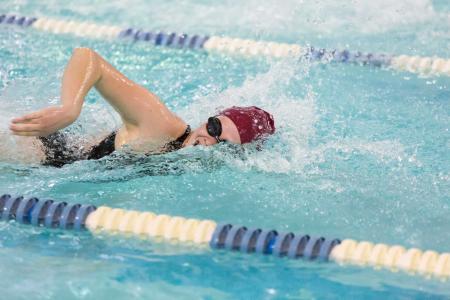 The boys and girls varsity swim teams will be heading to the Western Mass meet at Springfield College on February 13.  The girls meet will start at 9 a.m and the boys will begin at 4 p.m.
Three swimmers qualified for individual races this season. Senior Andrea Taylor qualified in the 50, 100, 200, and 500 yard freestyle as well as the 100 yard backstroke. Even though Taylor qualified in five events she is limited to three individual races. She will be swimming the 50 and 100 yard freestyle along with the 100 yard backstroke.
"I chose these races because I am closest to qualifying for states in these races," says Taylor, "I am nervous for Western Mass because it is my last chance to qualify for states and I want to re-break my record."
Not only Taylor qualified but both sophomore Abby Potorski and freshman Adam Dacruz landed qualifying times in the 50 yard freestyle in their last regular season meet.
"I feel awesome about qualifying as a freshman," says Dacruz, "Knowing that for future years I'll have no problem succeeding like I have this year."
Coach Christine Callahan said that she was excited that they both qualified. "They both barely made it."
The girls team will participate in the three relay races: the 400 yard freestyle, the 200 yard freestyle, and the 200 medley relay.
Sophomores Abby Potorski and Alex Silva, junior Hannah Bryan-Nelson, and senior Andrea Taylor will race in the 400 yard freestyle.
Potorski, Silva, Bryan-Nelson and senior Joscelynn Aguilar will swim the 200 yard freestyle.
Lastly in the 200 medley Taylor will start off the race with  backstroke, junior Zoe Hill will compete breaststroke, Potorski will swim butterfly, and Silva will finish with freestyle.
The girls alternate swimmers are junior Isabella Valadas and sophomore Arianna Silva.
The boys will only be swimming in the 200 yard freestyle and 200 medley relays. They will have the same swimmers for both relays; juniors Kyle Beaudette and Nate Feliciano, sophomore Ryan Goncalves, and freshman Dacruz.