Memorable year for Luis Fialho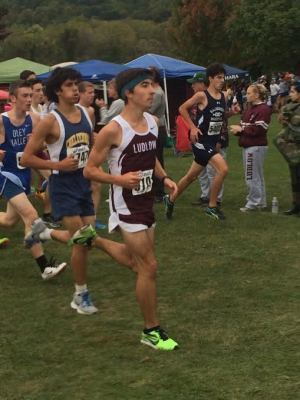 Ludlow High School junior cross country runner Luis Fialho ran as fast as he could at the Pioneer Valley Interscholastic Athletic Conference on Nov. 1, but missed qualifying for states by half-a-second. The team overall in the meet came in 8th place.
Fialho's goal was to be under 17 minutes and 30 seconds. He met his goal at the PVIACs with a time of 17 minutes and 8 seconds which was his best time all year, despite not qualifying for states.
"At the beginning of the season we all set our goals," said Fialho. "When I set my goal I knew it would be tough, but we worked hard and a lot of the team met those goals, me included. I guess I wasn't surprised at how I did, but I was pretty happy that I was able to do it. I like to say I'm 99.5% completely happy with how I did…. I'm glad I got the time I did, but that half-a-second was quite the kick. Overall, I think myself and the team did very well."
Fialho and his team worked extra hard to get where they were at the PVIACs.
"Before the meet the team and I usually do our warm ups and stretch to get physically prepared. I usually have a Clif Bar as well. Then the team and I do our team chant right before we race to get ourselves mentally prepared."
The weather was not ideal for racing. Temperatures were in the low forties and there was a slight drizzle. Runners said the course had a few bad hills and the mud made it difficult to navigate.
"All of us were tired and muddy. It had just rained so we were all dirty," said Fialho, "and as a team we all congratulated each other, and the coaches went to all of us to tell us we did a good job."
Next season Fialho looks to be even better than this year.
"Next year as a senior, I hope to make it to states, either individually or with the team, as well as get a little faster and better. Above all I want to enjoy my final season in Cross Country."
Luis hopes to surpass that half second next year so he can make his last year at LHS memorable.