Jake Zina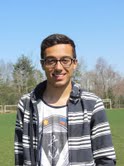 Quote: "Run fast, run hard, and leave it all on the course" -Becca Gauvin
Major: Biology
Fun fact: He loves goofing around and making people laugh
When senior Jake Zina first walked into LHS his freshman year, he didn't expect it to be so much fun. His freshman year was carefree after he got over the stress from the senior's stares and "finally hit puberty."
During his freshman year, Jake played no sports, his grades were mostly A's and B's and he hung out with a lot of different people.
As his last days are coming to an end, Jake has changed from his freshman year to his senior year. He has kept a smaller circle of friends, he has gotten more engaged in the community, and volunteering.
"I think as I became older, I matured and finally fit into the right crowd of friends," he says. "I'm really good friends with everyone on the cross country team; we're kinda like a family. Jimmy Garrett is also my boy, we're going to be roommates in college."
He volunteers weekly at Wingate in Wilbraham, playing bingo with the residents there. He has also volunteered at youth track camps, helping/running in 5k races for good causes. Jake is even participating in sports like cross country and track.
His greatest challenge was getting his grades up because the transition from a middle school workload to a high school workload was really different because he never expected to have so many test and quizzes on the same day or even have so much homework.
Jake's greatest achievement at LHS would be when he won his first track meet his sophomore year.
Surprisingly, Jake didn't have any struggles his senior year, "it was easy as can be," he says.
For freshman, his tip is "Work your butts off. I've heard a thousand people tell me that they wish they tried harder their freshman year. It pays off, trust me."
Jake's biggest fear for college is adjusting to being away from home and meeting new people.
The career goal that he wants to achieve is that he would like to attend medical school and hopefully someday become a doctor.
As for sports, Jake is unsure about if he wants to continue participating in cross-country and track and field once he starts the college life.
His parting words are "Deuces LHS, it's been real."