2022 NHS Inductions
11 Seniors and 31 Juniors were Inducted during the ceremony.
On March 25th, forty-two new students were inducted into the Ludlow High School Chapter of the National Honor Society (NHS). The event was the school's 72nd induction ceremony and brought the school's total NHS members to seventy-two. 
The ceremony started with Mr. Mitchell giving a short introduction speech and was followed by NHS president Aaron Picard giving an opening speech about NHS. Afterwards each officer gave a short speech about the core values of NHS: scholarship, community service, leadership, and character. What followed was a series of speeches from current members of NHS to induct the newest members into the organization. 
"It's an honor" said junior inductee Madelyn Ogorzalek. She added that her membership in NHS was "a good opportunity to be more productive in school."
Many NHS members inducted their friends, teammates or even relatives such as senior Colby Palmer who inducted his sister, Nina Palmer. "I thought it was really meaningful to be able to induct my sister into NHS" said Colby. "She deserved it and I'm glad that I was the one to be able to show everyone how hard she works and it was a pleasure to induct her."
To get inducted into NHS, students must meet rigorous requirements. They must complete two short term and one long term community service projects all while maintaining a cumulative GPA of 3.5 or higher. Additionally, students need teacher recommendations, a signed leadership form, proof of school organization involvement, and two short essays. All of this year's inductees were able to meet these requirements and were honored for doing so.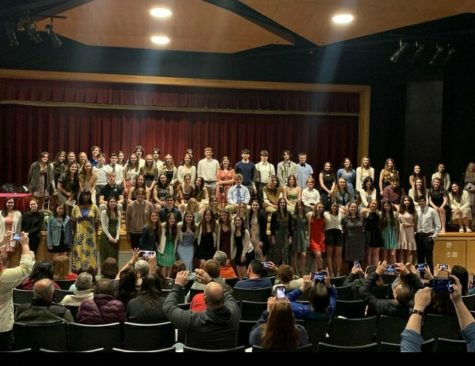 The full list of inductees can be seen below:
Seniors- Trista Auclair, Nicole Audet, Michael Gilrein, Kacie Goncalves, Liliana Goncalves, Rae Yeong Kim, Hanna Park, Hunter Proulx, Isabella Provost, Sofia Ribeiro, Jessica Yoingco
Juniors- Maggie Ayers, Kayla Bourcier, Mia Bradway, Shealee Cavanaugh, Julia Colson, Benjamin Corbin, Abigail Cruz, Ryan Cruz, Rory DiVenuto, Matthew Favata, Isabella Fernandes, Olivia Fournier, Kylie Gauvin, Antonio Goncalves, Gabrielle Gonsalves, Aleena lodlovskaya, India Iwaniec, Kiley Lariviere, Riley Londraville, Kaylee Lyman, Andrew Lynch, Anthony Martins, Julia Mateus, Matthew Mendez, Jadyn Neiford, Madelyn Ogorzalek, Nina Palmer, Ella Roy, Drew Smith, Taylor Walsh, Kate Wyllie