Potentially Historic Snowfall Heading its Way to Northeast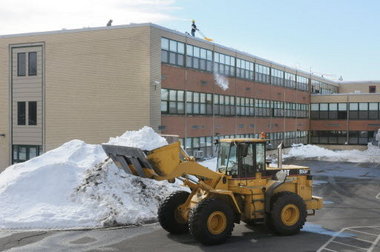 Due to the impending snow storm, Governor Charlie Baker has just declared a state of emergency around noon time Monday January 26th and has banned road travel after midnight. While Superintendent Todd Gazda has not officially cancelled school for Tuesday, we can deduce that there will be state-wide cancellations.
Schools and businesses in and around the Ludlow area have already closed for tomorrow. These include Luso Federal Credit Union, St. Elizabeth Parish and Callaway Golf. However, Ludlow Public Schools are yet to announce any cancellations.
While the rest of the state is worried about safety precautions, teachers at LHS are concerned with a snow day interrupting class assignments.
"A snow day shifts things," said math teacher Aderito Pires, "Passed five snow days is where it starts to get bad. I'd rather be in school now, not in 90 degree weather," he said.
Although teachers worry about a snow day affecting class, students are more than happy to have a day off either to catch up on assignments or to spend time with friends.
"It depends on whether or not I have power, I'll probably walk over to my friend Nick's house," said senior Joe Peluso.
With a state of emergency and travel bans in place it is safe to say school will be closed Tuesday and possibly Wednesday.