Over $8,000 raised for Desforges scholarships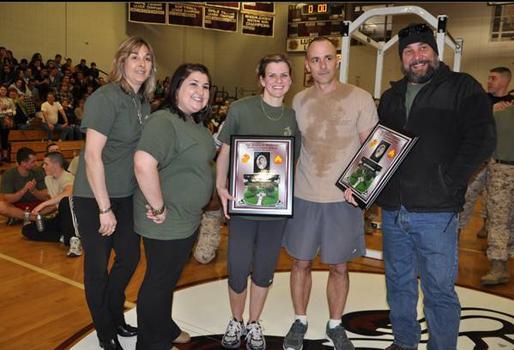 The third annual Joshua D. Desforges Physical Fitness Challenge on March 14 raised over $8,000 which will be used for multiple Ludlow High School scholarship/awards. Tom Cote, who organized the event, hopes to generate even more before the April 30 scholarship deadline.
The fitness challenge featured 57 participants, 20 of whom fully completed the hour-long challenge. Nineteen active-duty marines assisted Cote and last year's winners, senior Ryan Wytas and East Street School teacher Jennifer Maurer helped Cote lead the challenge.
The two winners for this year's challenge are both representatives from Ludlow High School, English teacher Charles Cangemi, and physical education teacher Rebecca Gavin.
"I knew it would come down to the final pull up challenge," said Cangemi. "To prepare I did between 50 and 120 pull ups a day, at least five days a week. Everytime I went in my basement I would bang out a set. I mixed the sets up; sometimes I would only do one pull up, or I might do five, ten, whatever."
While the event was held at Ludlow High School, many people from the greater community were involved.
"My favorite part of the whole challenge was seeing the community come together. Every public school in Ludlow was represented," said Cote. "By the community coming together and with the active marines support, we honored the loss of a fellow marine brother and a family member. The community is always extremely supportive and very helpful. It really just adds to the day."
Cote said that the main purpose of this event is to keep Josh's memory alive throughout the community by awarding scholarships in the Desforge family name.
While $8,000 has been raised so far, "we still have ten participants who have not turned in their fundraising packets, and we are still selling the Tervis tumbler mugs," Cote said.
The Desforges family, along with numerous participants and spectators, acknowledge that none of this would be possible without Cote.
"All I can say is, this is great," said Dave Desforges, Joshua's father. "Tom Cote is a machine, and this is all him."
Cote plans on running this event in Ludlow for years to come.
"To sum it all up, this challenge has become my greatest passion," said Cote. "I try to live by the marines creed of Honor, Courage, and Commitment. Marines take care of marines, and most importantly, marines take care of marines' families."