Officer Dobeck returns to Ludlow Public Schools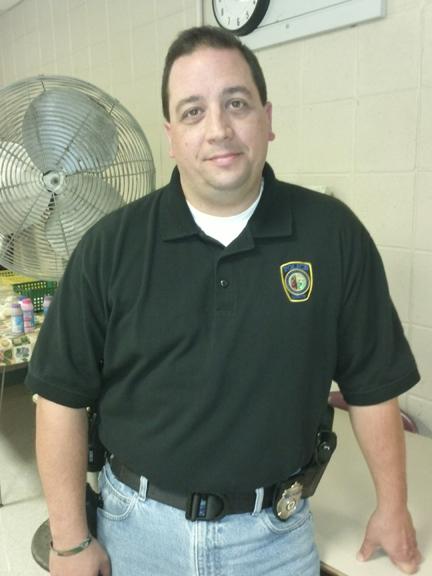 School resource officer and Ludlow police officer Paul Dobeck has returned to Ludlow Public Schools for five days a week after being reassigned by the school committee and the Ludlow Police Department.
"I started here at the high school in 1999," said Dobeck. "Due to the shortness of staff and funds, I had to leave the school system and go back to the streets, but now that staffing is up I am back at the school."
Dobeck works at both Ludlow High School and Baird Middle School. He alternates every other day between the two schools.
"Even if I am at the middle school one day and the high school needs me, I can switch around my schedule," said Dobeck. "I am always only a block away from each other."
Dobeck has many important roles and various responsibilities within the Ludlow school system, according to Assistant Principal Michael Halpin.
"He will monitor the cafeteria, patrol the hallways, overlook assemblies, and will deal with other 'issues'," said Halpin.
While he is not technically the attendance officer, he may still play a role in attendance.  "If a student was missing a lot of school he may go to that student's home and talk to their parent," said Halpin.
Dobeck and Halpin believe that it is very important for the students to get to know their school resource officer.
"If a student has an issue that they want to talk about, Dobeck is now a resource for those students as well," said Halpin. "Also, if someone wants to pursue a career in law enforcement, then he is a good resource and model to talk to."
Dobeck explained that his purpose here is not only  to enforce school rules and watch over the students, but also be available for students if they need assistance with anything.
Halpin and Dobeck both recognize how important it is for Ludlow High School to have a strong connection to the Ludlow Police Department.
"The school should never be its own entity," said Dobeck. "We are all part of a community and it is very important that we all help each other out and have a connection to each other in some way."
Halpin added that if something was going on with a student outside of school, and then it eventually flowed into school, Dobeck could inform LHS or Baird about it so they can monitor and keep an eye on the issue.
Now that Dobeck has returned to the school system, he has one goal that he has set for himself: "I  want to help the kids that are having a hard time helping themselves," said Dobeck. "If I can help students feel safe while they are here in a safe environment, then I'm doing my duties here."