Brett Layman: all-star on and off the field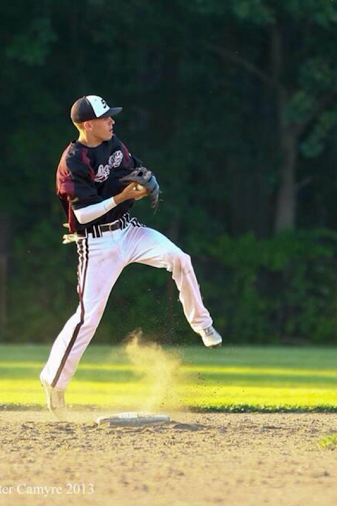 Seventeen-year-old junior Brett Layman looks casual in his white, thermal sweater paired with light-colored jeans, standing about 5'11" with a muscular frame. His hair, blow-dryed off to the left side. Blue eyes. He appears sweet and nice, like he would be a great helper in class. Funny. Athletic. Girls find him irresistible. And, if you can believe it, he's also smart.
Ranking 5th in the class of 2015 with a GPA of 4.3 and making the Varsity Baseball team since freshman year, Layman makes sure to stay organized as he schedules every day of his high school education. He makes time for everything he needs to do to be successful.
Layman has set a goal for himself to play Division I baseball in college but is still deciding where he'd like to go to college and pursue an engineering degree. However, if he gets accepted at the Massachusetts Institute of Technology he'd be willing to play D3 ball. He's also planning on applying to the University of Massachusetts, Amherst.
"I'm scared I won't be able to get into the college that I choose," says the shortstop and bullpen pitcher, "and be able to play the level of baseball that I want to."
Future plans aside, the high school junior still gets stressed out about studying for his upcoming tests and quizzes.
"Brett is a very good student, taking many A.P. classes and is highly ranked in the junior class, so this gives him a lot of options towards colleges. The first question college coaches always ask is about grades, so Brett has answered that question well." says Martin Fanning, Layman's high school baseball coach. "Now the coaches begin to evaluate his baseball skills and he ranks very high."
Layman is inspired by 5 important people in his life, his dad Scott, his mom Allison, and his older sister Samantha. He also cites teachers Brian Walsh and Brian Mulvehill as influences.
"My parents have always taught me to do everything to my best ability and to never give up. My older sister has always gotten really good grades, and she ended up inspiring me to do my best in school." states Layman, "and Mr. Walsh and Mr. Mulvehill are both enthusiastic and motivational people."
Even studying a lot for certain classes, Layman still finds time to hang out with his friends and play a game of pond hockey, baseball, or just to hang out and play FIFA 13. When he is not with his friends, he is playing fetch with his cat Theo.
"He is a really good friend," says junior Tyler Diotalevi, Layman's best friend since second grade, "He is reliable and always tries help his friends out."
Layman's friends play baseball with him frequently. While these aren't serious workouts, the junior is still able to get a lot of practice in.
"Brett is a very good baseball player. He has started [on the LHS Varsity team] since his freshman year. He is only one of two freshman to be a regular starter in my 21 years of coaching baseball at Ludlow High School. With a little luck and, and assuming we can advance a bit in the playoffs, he could set a school record for most games played at Ludlow High School," says Fanning. "He is very dedicated to baseball, playing in the summer and fall, in addition to the spring high school season."
Layman has also attended a few baseball college showcases and has gained interest from many colleges. But if it wasn't for his grandfather constantly making him watch the Red Sox with him, he would have never gotten into baseball.
Layman said that his grandfather passed away during the summer of 2013, and every time he plays, he thinks about his grandfather.
Layman trains as part of Advanced Performance Player Development, which is run locally by Pete Fatse, who played at University of Connecticut and in the minor leagues.
"He also spends a lot of time in the gym preparing for season," says Fanning. "I am lucky. I have not had to worry about the shortstop position for a few seasons."
Looking forward to going to the gym almost everyday after school Layman usually works out for about an hour and a half to two hours.
Layman tries to schedule his time so he can get all of his schoolwork done and still continue to play baseball. Most nights he is up until midnight, but no longer gets tired for school because he is now used to it.
"As I've gotten older I've gotten stronger and can handle more work," says Layman, "I used to primarily hit the gym in the offseason but now I also do more throwing and fielding."
It shows off in how much Layman practices when he plays. He always tries his best at every game.
"I think Brett should be the second ranked shortstop in Western Mass. Central High School has a shortstop who has already committed to a Division 1 college," says Fanning. "Brett is in charge of our infield and covers the left side very well. He also has a great range going back on pop-ups into the outfield. He is a very good hitter. Last year he hit .334 for us and has been one of the main reasons we have qualified for the playoffs the last two seasons."
Layman is proud of his team with their biggest win,of 22-1 against Sci Tech. But is upsetting to him and his team with a horrible loss of 7-1 against Central.
But not only being proud of his biggest win, Layman is extremely proud for his entire team for one of their greatest accomplishments, by winning the Bay State games and the gold medal. College coaches had their eye on Layman's Western Mass team, Team West.
Layman has been playing baseball since he was 6-years-old and has never gotten hurt while playing, but during the summer of 2013, he received 100 stitches in his head while he was a camp counselor at Whitney Park.
"I was running around with one of the campers, and I ended up running into the bridge on the playscape," says Layman. "It hurt a lot."
Along with getting many stitches in his head Layman had also had two other unforgettable memories last year, getting his license on July 13 and going to Fenway Park for a special celebration.
"I was at Fenway Park with my girlfriend, Alex, and her cousin Joe Francisco, when the Red Sox clinched the American League East title this year and stayed for the whole celebration," says Layman. "I will never forget that, it was one of the happiest moments of my life."
Layman often thinks about his future, anywhere from what part of engineering he wants to go into, where he wants to settle down, or if he wants to have a wife and kids. As of now, Layman would like to have a wife, and preferably one to two boys, he hopes to settle down somewhere near Boston, and he dreams of making at least a six digit salary.