LHS teen Alexis Lavoie finally returns home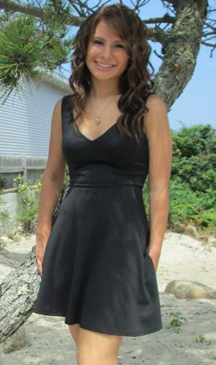 Arteriovenous Malformation [AVM] is a rare birth defect that affects approximately 0.14% of the United States population. Unfortunately, Alexis Lavoie, a 15-year-old sophomore at Ludlow High School was unexpectedly diagnosed with AVM while on vacation this July.
Alexis Lavoie complained of a severe headache and then went to a nearby emergency room where a CT scan confirmed that she had a "brain bleed" called Arteriovenous Malformation. She underwent emergency brain surgery where doctors resolved the problem. She was then put into an induced coma for two weeks to let her body heal itself.
"Alexis is doing wonderful. She is making great progress," said Kelly Lavoie, Alexis's mother. She also said that there was no chance of recurrence and there are no more birth defects.
She is currently going through physical therapy which will help with balance and coordination. She also had to re-learn how to walk using a walker. Alexis is currently undergoing occupational therapy which consists of relearning basic tasks that most people take for granted such as brushing her teeth, getting dressed and showering.
Within the next year things will most likely go back to normal for Alexis. She will regain her speech and be able to do ordinary things that she enjoys.
When recently asked what Alexis was looking forward to when she came home, she replied, "My family."
Alexis said that her therapy is "good," her biggest challenge is "speech" and she is looking forward to returning to Ludlow High School.
A few fundraisers will be held for Alexis to help raise money for medical expenses. Saint John's is selling raffle tickets for a Bose stereo, Noreen O'Sullivan is hosting a  spaghetti dinner at the Polish American Club on Nov. 17, and many of her friends at LHS are selling "Stay Strong Alexis" bracelets; $3 for one and $5 for two.
"I started to really think about the people in my life that mean a lot to me. Alexis is one of my best friends and I never thought something like this could happen to her. I'm just happy she's okay," said sophomore Cheyenne Patrie.
After a month at the Connecticut Children's Hospital, where Alexis received many visitors including her favorite dog, Gemma, she was discharged on Sept. 8. Her next step to recovery is going to the Weldon Rehab Center at Mercy Hospital three days a week where she will continue therapy.
"She will also get a tutor two days a week if she is up to it," said Kelly Lavoie, adding that she's not sure when Alexis will be returning to LHS.
"Each time I talk to Alexis, I'm amazed by the amount of progress she is making and I am so proud of everything she has accomplished," said sophomore Emily Sevigne, another close friend.