Beauty standards set to an unrealistic level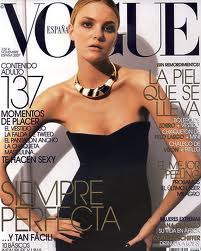 "It's extremely difficult for teens when their own bodies are changing, and they don't resemble the models that our society continually bombards them with. This makes it especially important for us to communicate with our teens about how unrealistic these images are. How are our children going to feel good about their own bodies, when our role models don't resemble reality, or we set impossible goals for them?" says Celeste Santos, mother of two teenage children.
Every day, teenagers feel the pressure from peers, adult figures, and models to be "skinnier." As teens develop and find their true selves throughout their years of high school, they can often lose track of how important it is to stay healthy and feel comfortable in their own skin.
The average size of a model is 5'10" and 110 pounds (Look at Twiggy, for example). The height and weight for the average woman is 5'4″ and 145 pounds. It's easy to see why this creates a tremendous health risk for young girls. Models are considered the standard for beauty. The images displayed in magazines such as Vogue and W, and those exploited all over the televisions, set a goal for teenagers that is nearly impossible unless they starve themselves, or take an excessive amount of harmful drugs. The girls who do not mirror the same weight or height as the "ideal girl" drastically lose self-esteem.
"It is hard to walk the halls of school when you pass by all these girls that are a size zero, and here I am, a size 12," says Mackenzie Johnson, graduate of the class of 2012.
Girls often choose fashion models, actresses, or singers like Taylor Swift or Miley Cyrus as their role models, they paste pictures of them all over their rooms, and some will resort to dangerous methods of weight control to try and look like their idols. The images within today's fashion magazines only reinforce beliefs that in order to be happy, successful, and accepted, girls must be thin.
"When girls are younger they often are easily manipulated to the idea that skinny is the only beautiful, but as they grow they hopefully can realize they do not have to live up to other people's standards," says junior Siearra Papuga.
Thin fashion models are in. Designers from all over New York believe that clothing hangs better on thin fashion models, but if we look at models from the 1970s or earlier, they didn't appear to suffer from a lack of beauty because of a fuller figure. With models always wearing the new 411 clothing and accessories, girls often feel obligated to look like them from head to toe to fit in.
"Girls in today's society feel it's all about fashion, make-up, clothes, and being skinny. And we do need fashion because it individualizes everyone, but not to the extreme where you need to plaster yourself with make-up and dieting to someone your not," explains sophomore  Lindsey Paradis.
Teenage ladies with the idea of fashion and the "perfect" model body try to impress the opposite sex, but the physical features are not always everything.
"Skinniness doesn't automatically determine anything for me. Looks attract you to begin with, but the personality makes it official," says junior Steven Talbot.
Many girls in today's society feel they are not as beautiful as any other girl because of their weight or physical features. The media displays unrealistic size double-zero models which causes a reaction to all other girls to be discouraged, even though they could be completely beautiful inside and out.