Which one is better: The Notorious J&L Or The Notorious J&T?
Ludlow High School Juniors Jalen Camacho and Luis Chaves created the hit youtube channel The Notorious J&L back in 2017. Camacho disclosed "we started the channel to make money and have fun." Their most popular video "Kids Who Flex Their Airpods Pt. 2" is a lighthearted video that provides entertainment for all students within the community and stands tall with 7.5k views. In that video, they feature different students who wear their AirPods and what music they were likely listening to. 
Although the creators have yet to make money off of their channel, they have high hopes for the time to come. Camacho announced, "the purpose of our channel is to entertain our classmates and to gain more street cred for the future." And you can tell the channel effortlessly adapts to what its viewers are wanting. After talking with the two main creators I have gotten an idea of what goes down behind the scenes in brainstorming and recording for the channel. 
Within this past year, Chaves has shared that he doesn't have much time to "commit" to the channel with the growing responsibilities of being a teenager. He not only has school and athletics to balance but he also began working at Starbucks. 
With the decline of Chaves's presence, Tyler Quiterio — another Ludlow High School Junior — has stepped in and become the main persona in more recent videos. With Quiterio stepping in this has created a buzz among students not only because it opens the viewer pool to different friend groups, but also because having freshman family members broadened the views of other grades.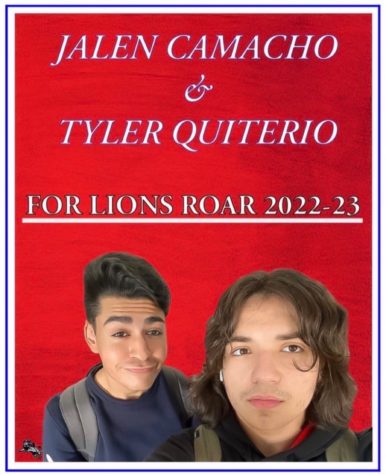 Many students have brought the thought of a name change to Camacho and Quiterio's attention as a result of Luis's lack of presence. Many students have also pointed out the increase in popularity the channel has seen since Quiterio has been featured. In fact, Ludlow High School Freshman William Bushey has stated he believes "The channel name should be changed to The Notorious J&T." Quiterio's opinion on the situation is "J&L is the OG name and the channel wouldn't be the same if we changed it." 
Without having a clear answer on whether the name should be changed or not I decided to ask the two who started it all. Camacho shared "I don't think that changing the channel would sound as good, but I will give it some thought." Chaves revealed that having the channel name open to discussion for change "hurts his heart" as he still believes he is a main contributor to the channel. He also shared "This channel has started to have a strain on my friendship this year" (The year Quiterio became involved). Camacho disclosed without taking Chaves' feelings into consideration "Tyler has not only opened the channel up to a whole new audience of viewers aiding the channel in its growth, but he has made the channel more interesting." 
During Quiterio's time on the channel, Camacho successfully released a series of indoor soccer videos that were extremely popular throughout the LHS community. The only predicament is that Quiterio is featured in every video while Chaves is rarely seen.
After interviewing these three individuals I discovered the tension goes much deeper than the thought of changing the channel name. 
Chaves began to feel frustrated and let on about how he thought the constant need for Camacho to record annoys him and not only "ruins the relationship," but "Jalen completely changes himself when he is in front of the camera." Surprisingly, Quiterio seconded that statement and added "Jalen constantly feels the need to act differently when he is in front of the camera and this is why he is always recording behind it." 
Camacho was quick to defend himself and implied that his constant need to record is something he is passionate about and he plans to have a career in a similar field in the future. Camacho and Quiterio also have advertised being on the Lion's Roar show their senior year, completely excluding Chaves. The Lion's Roar is a school broadcasting network that airs every Friday informing students of what is going on within the Ludlow community. 
Without being asked anything else Quiterio began to rant, stating how much wasted potential the videos have due to Jalen. He continued reminiscing on how "Jalen is afraid to go out… get behind the wheel… he's afraid to swim" and continues implying Jalen is afraid to live. Quiterio expresses how he believes "Jalen just uses us." Jalen was taken aback by this comment and stated "As someone who is shy I use this channel as an outlet to express myself whether I am in front of the camera or not, and I enjoy being able to do it with my friends. I hope that this channel is an outlet for other students and supports them in the same way it does me." 
After speaking with all three students the debate as to whether a name change is happening is still questionable, but the strain being young creators has had on all their friendships was prominent.  Although the name change is still being debated today many still haven't decided which side they are on. 
Overall, I believe the channel will not only have the same name but the same giddy, carefree content and we must all stay tuned to see what will happen next year whether Camacho and Quiterio will be featured in the Lion's Roar or continue prioritizing The Notorious J&L.