Crank: a dark novel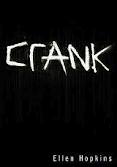 "Crank" by Ellen Hopkins was one of the darkest books I've ever read, so if you're into girly romances or stories about dragons and knights, this may not make your top favorites. Hopkins wrote a great series of these crazy and twisted novels. The story exposes to the reader the dangers of drugs and addiction.
Kristina, who is 17-years-old, is sent over to her her dad's home in a  dusty and hot part of Albuquerque, New Mexico, a huge change from her colorful home in Reno, Nevada, with the rest of her family. Already on her first day in her new life, trouble arrives. His name is Buddy, welcoming her in, and there Kristina introduces herself as Bree. You may think she has an alter ego, but Kristina just really sees herself as Bree. Bree is just Kristina's changed name and now personality, which is the complete and utter opposite from innocent, honor roll student Kristina.
Bree soon comes into a world full of danger and drugs and alcohol. Everyone seems to be doing crank, a form of methamphetamine. Everyone from her father to his friends, to Buddy. And soon, of course, Bree. We read on to find out all the bad decisions Bree starts making in her life. She's addicted to crank and convinced she's in love with Buddy. I found myself feeling so frustrated that many of the hardships Bree is dealing with could have been so easily avoided, had she not gotten so addicted and had her father stopped her, instead of influencing her to take the drug.
Bree finds herself pregnant, by rape, and scared and alone. She knows she can't take care of a child while she's so addicted to the drug so after she makes the decision of whether to keep it or not, she is faced with an even bigger decision: To leave everything behind in Reno with her supportive family and go back to her old drug-addicted life, or stay with them and and receive treatment.
The book, and all of Hopkins's books are written in free verse poetry and its a total page turner. Narrated by the main character or characters, the author makes even the most messed up plots sound beautiful with all her verses. I know it may sound kind of difficult, reading and understanding poetry, but with such an intricate storyline, you really won't be able to take you eyes off the page, and definitely spending the next few days of your life wondering if such a reality really does exist, and what if it happened to you?