Lights leaves her mark in Northampton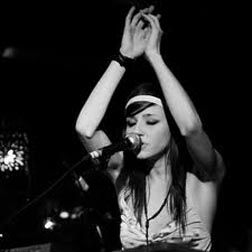 Walking into the Nightclub on Pearl Street is a lot different than I had expected. The line separates into two, according to gender. Security asks, "Are you drinking tonight?" and while most people deny the offer, it is clear that some others already started throwing back a few prior to the show.
We arrive just in time to claim our space on the floor to get a good view. The longer people wait, the pushier everyone gets.
No one has heard of this band called Savoir Adore from out of state, but they definitely leave their mark as the crowd begins jamming out to their music, not concerned with the fact that they are a small up-and-coming band. People are very entertained by their music, including an apparent favorite "Loveliest Creature." After they complete their set, the lead singer looks at us and yells, "Who's ready for Lights?!" There is a sudden overwhelming roar of clapping, screaming, and whistling as we feel that excited buzz running through our veins, ready to see who we came for.
After a few technical difficulties, a lot of tension between people in the crowd, and a lot of impatience, Valerie Poxleitner, better known as Lights, appears on stage belting out an upbeat song called "Banner." Everyone feels the positive energy bursting through the speakers and suddenly we are all in a different world, all singing along and simultaneously lifting our arms in the air, moved by the music and the lyrics of this young and tatted up role model of many.
As the show goes on, even the shy ones who were embarrassed to sing and dance can't help but to sway with the music and enjoy it. The effect of her performance is mood-altering. The music is loud and always catchy, and most can relate to her lyrics.
Eventually, she takes a break, takes a sip from her water bottle, and yells, "How's Northampton tonight everyone?!" A tall blond fan named Collin responds with a "You're beautiful!" and hands her a microphone. Everyone expects her to just take it and go on with her show, but instead she continues the conversation. She looks at Collin and says, "That's a great compliment, are you a singer?" Collin says yes, and Lights catches everyone by suprise. "So, do you wanna come up here and sing with me?"
After an amazing duet of the song "And counting," the show goes on.
Finally, Lights completes her set, thanks the fans, and walks off stage. According to us, however, she wasn't finished just yet. The entire floor starts chanting "One more song!" until she has no option but to return to the stage for an encore.
Everyone walks out of the Pearl Street Nightclub in a daze, clearly affected by this young woman's talent and undying passion for music and life. I walk past multiple groups of friends, couples, and randoms all repeating the same three words.. "That was amazing."