Jason Aldean throws his kinda party at UMass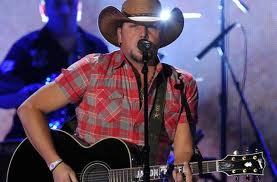 Every country concert ensures five things: a sea of plaid shirts; a hoard of heads topped with cowboy hats; tons of toes tucked into cowboy boots; denim jackets, jeans, cut offs, or mini skirts; and a party you will never forget. Jason Aldean's "My Kinda Party" tour stop at the Mullins Center on April 29 was no exception.
With only minutes left before the concert's first opening act, the Jane Dear Girls, there were still groups of people outside taking swigs of different beverages while tailgating. Thus, when the Jane Dear Girls opened up the show with a five-number set, including their hit "Wildflower," only half of the center was filled. Even  though they were an opening act, and performing for half the crowd, the Jane Dear Girls still belted out up-beat vocals, and fiddled and strummed away with energy as if they were playing a packed stadium.
During set-up for the second opening act, Eric Church, the party goers arrived and the center filled up. The party continued as country karaoke and singalongs broke out with help from the DJ. Then as it went black and the stage was illuminated with green and blue lights, Eric Church was introduced as a bad —. This rang true as the hardcore guitar playing started and he entered taking a gulp from a red cup. I'll leave its substance to your imagination.
He entered in proper country-artist attire: a tee-shirt, ripped up jeans, and  a dog tag. Although he substituted a cowboy hat for a baseball cap paired with sunglasses. Church was a real entertainer. He got the crowd up off their feet and clapping along to all his up beat numbers, and at one point he brought out a squirt gun. As he played his hits such as "Hell on the Heart" he got the crowd to fill in the lyrics. Church rocked the crowd for a full 11 songs including hits such as "Smoke a Little Smoke" and "Love Your Love the Most."
Another intermission occurred.Then white drapes were hung around the whole back of the stage and it became confusing, but as Jason Aldean was introduced and his shadow broke out on the front drape the crowd all got on their feet and screamed. As the drapes were pulled up Aldean presented himself with his cowboy hat on his head, graphic-tee and ripped jeans on, and guitar in hand, ready to rock.
He did just that to 17 songs, and not once was the crowd off their feet. Songs included his hits such as; "The Truth, "She's Country," "Crazy Town," "My Kinda Party," "Big Green Tractor," and "Don't You Wanna Stay" performed with a Kelly Clarkson video.
Aldean performed impeccably. He moved all around the stage entertaining the whole crowd. His interaction, reaching out touching hands and taking a moment to talk about how he loves performing in New England because of the fans' passion, riled the crowd up even more. And of course his rock out songs got everyone clapping, while his softer slower songs lifted all cell phones and hands in the air with a sway.
It was a party just as the tour's title promised. Even more than that it was an entertaining night of awesome country music that not only came from the headliner but the opening acts. It was a night to remember with amazing performances that I will never be able to forget.