Who is Dr. Welch… Really?
Forget about the usual school drama — all students' favorite "rumor" is hearing that your teacher is absent. Whether you get to avoid solving calculations or you get to skip out on the newest history lesson; walking into a room with a sub is always followed by a sigh of relief. As the year progresses, these substitutes eventually become familiar faces, yet we never know much about them. 
This sparked my interest in a particular substitute who is "well-known" at Ludlow High School. Dr. Welch is someone almost all students are acquainted with. You may know him for his stylish attire or his famous sayings and riddles, but what is his backstory? 
I interviewed this renowned substitute along with many of my peers to reveal his inspirations, and accomplishments, and to answer the question; Who is Dr. Welch… Really? 
Growing Up
Doctor, or Kenneth Welch, was born in Springfield, MA. He is the second of eight children. Growing up, Dr. Welch took part in many childhood activities. He and his family explored the outdoors while skiing at Blandford, vacationing at campgrounds, and enjoying lakes for swimming, boating, and waterskiing. In his younger years, he played baseball and hockey for both the little leagues and then eventually Cathedral High School, where he earned his diploma in the sixties.
Schooling was always a priority in Dr. Welch's home. His parents emphasized the importance of a thorough education and they advised him to "get a license that would be good for a lifetime," inspiring Dr. Welch's lengthy academic journey. 
Adult Years
After graduating high school, Dr. Welch left his childhood home and traveled beyond the borders of Massachusetts, attending St. Anselm College in New Hampshire. There he received his BA while working part-time at a Howard Johnson Restaurant. 
He continued working full-time at the restaurant until obtaining a job at an accounting firm in Andover, MA. During his time there, he earned a Master's Degree in accounting and taxation. While further shaping an accounting career and remaining in Andover, Dr. Welch had and raised four children: Sean, Moira, Brendan, and William. 
Wanting to pursue his interest in education, Dr. Welch resigned from the accounting firm and earned a full-time faculty position at Merrimack College. He explains that after teaching at the college level, he realized just how important it is to get a degree. He continues by exclaiming, "The more you know about academics the more you can open your mind."
Not long after, Dr. Welch began working toward one of his most "challenging accomplishments in life," achieving a Doctoral degree in Business Management. Upon asking the question, "What made you interested in education?" Dr. Welch responded with confidence, "I got to a point in my life when I felt the need to pass on what I learned. I wanted to teach kids about the worthiness of education." 
With a passion to spread knowledge and connect with students, Dr. Welch continued to work at other colleges and high-schools until retiring. However, he was not retired for long as, shortly after, he accepted his current position here at Ludlow High School. 
Time at LHS 
Dr. Welch's journey at LHS started when he was hired as a summer math teacher and a permanent substitute. Now, Dr. Welch subs for a variety of different subjects and has taken over a history class, acting as a stand-in for the time being. After Dr. Welch subs for a class, he never fails to report back to the teachers. He carefully provides hand written notes that summarize the class for the teachers to read. 
When class is in session, Dr. Welch makes sure the students know how to do their work and always offers to help if there is any confusion. Although he stays quiet for the majority of the class period, in the last few minutes, he interacts with the students. 
When asking my peers, "Who is Dr. Welch?"; they did not stop at "a substitute teacher." Debbie Rosado adds, "He has an amazing sense of humor. He's an amazing person with lots and lots of stories to tell." Not only does Dr. Welch imparts his stories and wisdom on the students at LHS, but also joy as "He loves to tell jokes and see people smile," says Brianna Sariava. 
Recently I had the chance to have Dr. Welch as a sub in my Spanish class. As the end of the class was near, he asked what year we were. The class promptly replied "juniors." He then followed that question by asking what we planned on doing after high school and college. 
The class then had a discussion about the professions that interested us, including engineering, software, and nursing. Passing on the advice he was given at our age, he emphasized that we use our knowledge and choose a career that would take us far, but a career that we enjoyed as well. "If you love your work, you will be happy," he stresses.
In the final minutes of the period, he told a number of riddles that engaged the class and encouraged the students to think. 
Even if you have never had Dr. Welch as a sub, his impact goes beyond the classroom walls. At times Dr. Welch can be seen in the hallways encouraging students to "keep smiling as it only hurts for a moment." 
Danny McKenny explains that his positive outlook and kind words "brings some spirit into people's day."
The Future?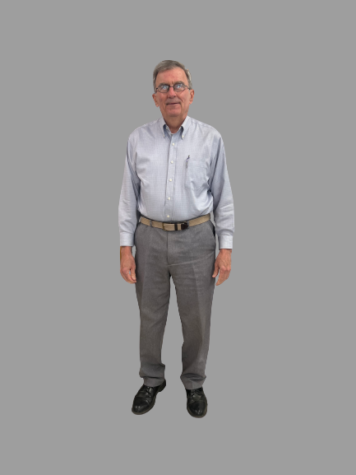 In the future, Dr. Welch hopes to become more involved with the church. He explained that, "being active with your family and community can be very rewarding." 
Additionally, in hopes of expanding his own educational capacity and enlightening others, Dr. Welch wishes to write a book. In terms of LHS, his journey is not over. Dr. Welch plans to remain at Ludlow High School, where he "thoroughly loves (his) work, the students, the administration, and atmosphere." 
Dr. Welch is much more than a substitute teacher at Ludlow High School. He is the embodiment of knowledge, laughter, and a great member of the LHS community.