Mr. Minic returns to LHS in new role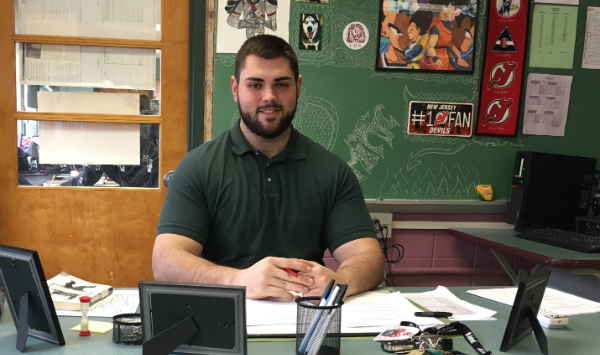 Ernad Minic returned to Ludlow High School in the fall of 2017 as a student teacher under the tutelage of English teachers Christopher Rea and Keith Woodman. The 2013 LHS graduate didn't expect that his role would take a dramatic turn when teacher Michelle Fontana left suddenly mid-year due to unexplained reasons.
The 23-year-old took over two sections of British Literature and three freshman classes.
"The opportunity came out of nowhere," he said "I started as a student teacher, then [English Dept. Head] Mrs.Ollquist came up to me and asked if I wanted the position and I said yes."  
Minic is formally considered a "long term sub," meaning he is here for the rest of the school year but after that it's unclear if he will have a full time position at LHS.
Minic does hope to stay at Ludlow High School if a full time English position is available. However, if if that doesn't work out he will search for teaching jobs at other schools or go back to school himself and get his masters degree.
Ernad says he loves teaching and continues to get to know his students. The best part of his day is when he sees students in the hall and they exchange greetings. "It builds a relationship between the student and me as a new teacher and helps them know they can come to me whenever."
Students at LHS have adjusted to Minic's teaching style easily. "I believe his teaching is easy to understand. I really like the way he teaches and I don't think he needs to change anything about it," says senior Katie Picard.
The Western New England graduate stands stands 6'5" tall and although he may appear intimidating, students say he is kind, patient, and considerate once you get to know him.
Minic grew up with parents not born in this country. His dad is from Montenegro and his mom is from Serbia. Minic moved to Ludlow with his parents and younger sister in 2007 from New Jersey. He used to have to translate everything for them into English beginning at a very young age. He took on a  role as the "language broker" because the only language his parents spoke was Serbo-Croatian, a language primarily spoken in the countries that once made up Yugoslavia.
Because he had to translate English for his parents, Minic had to master the language faster than other children. He always liked reading, which not only helped him speak and write better English, it also set him on his career path as a high school teacher.
In his free time Ernad writes heavy metal music. He has been playing guitar for 11 years and records songs using "expensive software" at home.  
"I am also a huge fan of 1990's-early 2000's rap music, so every once in a while I'll write rap instrumentals, but no lyrics. I'm not a great rapper."
Minic also power lifts. "In high school I weighed 200 pounds more than I do right now. I had a health scare my senior year of high school so I decided to join the gym and watch my diet."
Little by little, Minic started losing weight then he started focusing on his strength. "I started at the YMCA then switched to Gil's gym located in Palmer. The guys at the gym took me under their wings and I started powerlifting with them," says Minic. From time to time he is involved with competitions six months apart from each other.
Hopefully for the undergraduate students at LHS, Mr. Minic will return to teach for the 2018-2019 school year.