Potorski Paves a Path to Success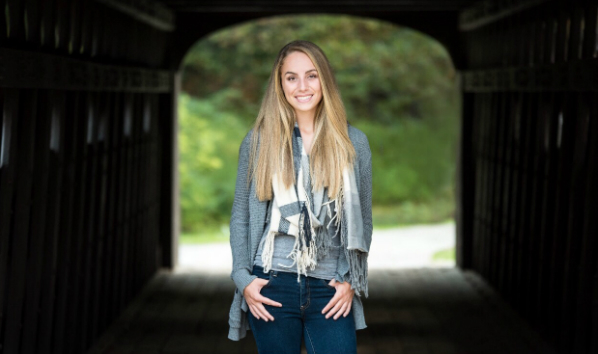 A three sport athlete with stellar grades, extracurriculars, and a social life? Abby Potorski is doing it all. As a senior, she is finishing her high school career and looking forward to embarking on a new journey in college.
Known around school for her positive attitude, talented athletics, and impressive work ethic, Potorski sets an example of success in high school.
Ever since Potorski was young, she's been drawn to playing sports. As a key team member on the soccer, swim, and track teams, Potorski has learned to balance her time between school and sports.
Potorski made the Varsity soccer team as a sophomore and she led the team as a captain this year. Ever since she was five years old, Potorski has been on the soccer field playing on club or town teams. She explains that soccer is her favorite sport and she finds comfort on the field.
"Whenever I'm stressed or having a bad day, I know I can play soccer and the stress fades away," Potorski says.
Potorski plans on continuing to play soccer in college to stay active. She's hesitant to play on her school's Division 1 soccer team so she can focus on her demanding school work. However, Potorski does not want to give the sport up and still intends to join the club team on campus.
Standing 5'7" with bright blonde hair and quick feet, Abby is not only a threat on the field, but she excels in the classroom. She's at the top of her senior class with a 4.5 GPA. Having taken six AP classes and many more honors courses, Potoski is no stranger to hard work.
Potorski is not only always putting a lot of effort into her school work, but she is eager to help her peers. "I think Abby is a great role model to everyone all around the school, from the sports field to our anatomy class. She always has a positive attitude and a study guide," comments fellow senior Kyle Zucco.
Potorski credits her success to time management and self discipline. Although most teens turn to their phone in any free moment, she tries to avoid using her phone after school so she can get work done instead.
She is extremely dedicated to her school work, but this does not stop her from taking the time to be kind and helpful. "In all the classes I've had with Abby, she has a positive attitude and is willing to give help to anyone who needs it," says classmate Ashley LaPatin.
"I try to get as much school work done on the weekends as possible so I can prepare for the week and avoid staying up too late," Potorski reveals. She also mentions how she frequently takes naps in her spare time.
Although she always gets her work done, Potorski loves to spend time with her friends and family whenever she gets the chance. Whether it's sledding, at a sporting event, or just hanging out, she tries to have as much fun as she can before graduating.
Potorski says that she knows how to decide when she has a lot of work to do and has to stay in, or when she is free to go out with her friends and have fun.
With her extraordinary grades and extracurriculars, it's not surprising that Potorski's mailbox is already starting to fill with college acceptance letters. She has been accepted into the University of Hartford; UMass, Amherst; and UMass, Lowell. Her top choices include Northeastern University and UMass, Amherst.
Potorski plans to continue her pattern of exceeding expectations by attending medical school and becoming a surgeon or a doctor. Always captivated and interested in her science and math classes, she wants to major in Biomedical Engineering.
"Being a surgeon really calls me. I think I have always been so interested in it because I find it is amazing they have the capability of saving someone's life," Potorski explains.
As Potorski plans for her bright future, she reflects on what she learned and offers advice for underclassmen. She advocates for working hard all four years of high school and taking more difficult classes if possible. Seeing first hand the benefits of hard work and dedication, Abby wishes to encourage others to challenge themselves, take risks, and learn how to balance having fun.
"I recommend putting a lot of effort into school. It's hard, especially with sports, but I think making memories while playing sports can be the best part of high school. If you keep your grades up it's so rewarding to get into competitive colleges during your senior year," Potorski reveals.
Although Abby is busy with juggling the course work from difficult classes, playing three different sports, and saving time for friends, she has learned how to master all three tasks.