High temps force LHS teachers to seek air conditioned rooms
Heat and humidity not expected to break until Thursday.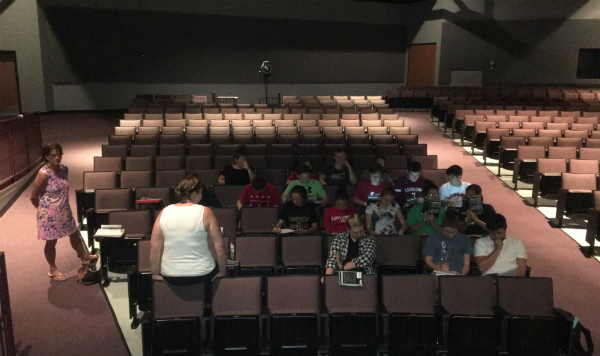 As record-breaking temperatures crept to near 90 degrees on Monday and humidity levels became oppressive, some Ludlow High School classes scrambled to find relief in the air-conditioned auditorium, library, and other areas of the building.
According to librarian Jamison Hedin, more people came to the library than expected. "Seven classes came [Monday] and even more are coming today."
In an email, Principal Lisa Nemeth encouraged teachers who have air conditioned rooms to share with teachers who do not.
"The auditorium can be divided all periods and please call [Ms. Hedin] to see when library is available," she said.
On the afternoon announcements yesterday, Nemeth notified students and staff that due to the upcoming heat and humidity, they will be allowed to carry water bottles. However, she also warned students to follow the dress code even with the extreme temperatures.
"It was hard to focus in clss because the heat was so distracting," said senior Emiley Krupa.
Even though some students were fortunate to have their classes moved to AC, some reported that it was still hard to stay focused.
"The heat gave me a headache even though most of my teachers went to the library," said senior Anna Hurley. "We still didn't get anything done."
The nursing staff was busy Monday with students who overheated or were dehydrated, although Nurse Sonia Jaworski would not confirm how many. "Stay hydrated and wear appropriate clothing," she advised.
The cafeteria sold out of bottled water by the end of first lunch on Monday.
Teachers who cannot move their classes will forced to teach in temperatures that are well above 85 degrees. "It's not that big of an issue for me," said English teacher Stephanie Fernandes, "but my students are more groggy in class so they don't want to learn."
Many students complained to their parents about the heat, hoping that they'd be able to stay home. However, some were not sympathetic. "You kids are spoiled so you think you need AC. Do you think I had AC when I was a kid in school?" said parent Cathi Dutton.However she did add that since it's only going to get hotter we should have condensed days like on early releases.
According to the Massachusetts Bureau of Environmental Health, "School officials should treat hot, humid weather in the same manner as foul weather (e.g., snow) when making decisions concerning student and staff safety… excessively hot weather can produce conditions of heat cramps, heat exhaustions and in extreme conditions heat stroke."
Meteorologist Nick Bannin from 22News reported Tuesday morning that the heat and humidity will not break until Wednesday night. Cooler temperatures are expected on Thursday and will only be in the sixties this weekend.