All students in Ludlow issued Chromebooks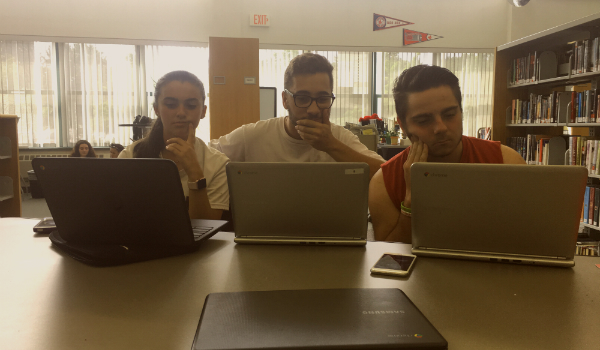 Superintendent Todd Gazda achieved his long-term goal this year of providing every student from grades two to 12 in Ludlow with a Chromebook that could be used in class and at home.
¨He budgeted the money very well over the years," said Principal Lisa Nemeth. This allows us to be able to purchase Chromebooks each year and finally there was enough for every student from 2-12."
The Chromebook each student receives is the one they will use for the rest of their high school career. At the end of each school year, students return them and get the same one back the next school year.
¨I am excited to evaluate how students and teachers like the Chromebooks," said Nemeth. ¨I hope all students realize how lucky we are as a district to have a 1:1 initiative.¨
Nemeth said it will increase learning and make it fun and engaging. Teachers can now create more online lessons and incorporate more technology in the classroom.
¨I think it's great that every student has a Chromebook," says the Chair of the English department, Jennifer Ollquist. "Students will get more direct writing instruction and better feedback on their writing this way.¨
Ollquist says it will also allow English teachers to have students write more and do research in the classroom without having to schedule time in the computer labs. She also adds that she will incorporate the use of Chromebooks into her writing seminar in her Honors English 10 class and that it will be very useful when peer editing essays.
Before, students had to go to the library to check a Chromebook out and return it by the end of the school day. Now, students have access to the Internet and all of their Google documents by having their own computer with them all day.
Students also are responsible for taking the Chromebook home each night, and bring it back to school charged the next day according to the Ludlow Chromebook Policy and Procedures.
¨I feel like it gives everyone more of an opportunity to use them,¨ says Senior Savannah Papuga. ¨I use mine all the time because it's easy access to all my school work, and it helps to have it during school so I can work on college based things throughout the day.¨