Seniors hold meeting to discuss class festivities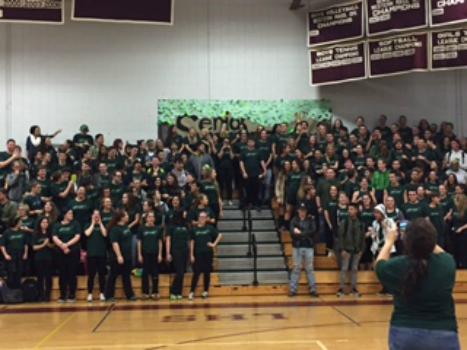 Seniors gathered in the auditorium for an informational meeting on graduation, finals, senior show, senior activities and yearbooks on Tuesday, Jan. 19.
The seniors were asked to bring in skit ideas for the Senior Show that will be on March 10 and 11.
During that time, finals will begin on May 10 and end May 16. Senior finals will only be the time of one class period rather than two.
"I hope they're not that hard since I'll probably have senioritis by then," said Senior Samantha DelGreco
After finals, rehearsals will begin for the graduation ceremony. 
Cap and gowns will be picked up on May 18 at 9 a.m. during the mandatory Protocol Rehearsal. Due to the new cap and gowns, seniors will have to pay an extra $10 for the sash making the total $35. The payment is due by Feb. 12 and will go up in $5 by March 11. Any payments after March 11 will be $45.
The senior farewell rehearsal and senior class picnic will take place on May 20th and are not mandatory.
Graduation will be held at UMass Amherst on May 26 at 6pm and the mandatory rehearsal will be at 8:30 a.m. that morning. Seniors must also attend Class Night on May 23.
"I am excited for graduation yet I'm nervous because I will be going out into the real world. It will be bittersweet," said senior Hannah Worpek "I'm going to miss high school."
Class night will be followed by the Senior Banquet at the Ludlow Country Club the next day on May 24.
If any parent(s)/guardian of a senior would like to make a page in the yearbook for their children they can attend Senior Ad night on Feb 10 and 11. It will be a half-hour time slot that will run from 2:30 to 7:30 p.m. Parents may bring any pictures or text they want on the ad. Payments can be made in check or cash and any parent that orders the yearbook for their senior that night will pay $70 instead of $90. Ads begin at $45 and range up to $300. All Ads are in color.