LHS library welcomes new furniture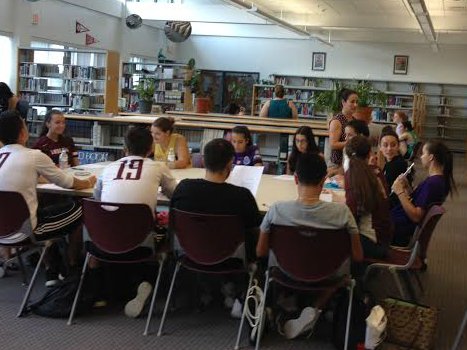 Thanks to a donation from the Joseph and Anna C. Dias foundation, the LHS Library received new tables and chairs on Sept. 4.
"The arrival is very exciting," said Jamison Hedin, librarian at LHS, "The furniture can be moved allowing for a lot more flexibility. We can have multiple classes going on at the same time."
During the 91 degree heat on the afternoon of September 8th, three classes took advantage of the air conditioned facility.
"I try to book class time in the library when it's 90 degrees or above but I was unable to do so," says Amber Lowe, English and Yearbook teacher.
Lowe couldn't access the library prior to September 8th because the furniture was delayed a week and a half.
According to Hedin, the furniture was supposed to be delivered on the Thursday before school started but the company had trouble because of typhoons in the ocean.
Also due to the donation, the library has received new flat screen monitors which replaced the larger monitors from the 90's.
Hedin also purchased new books to support the English, Science and Social Studies curriculum.
"There's a lot more options. Students should be happy," she said.
In October the library will install an overhead projector with screen in addition to an LCD screen.
"The LCD screen can be used for instruction and I can also use it for announcements," Hedin said.