GSA marches with colorful pride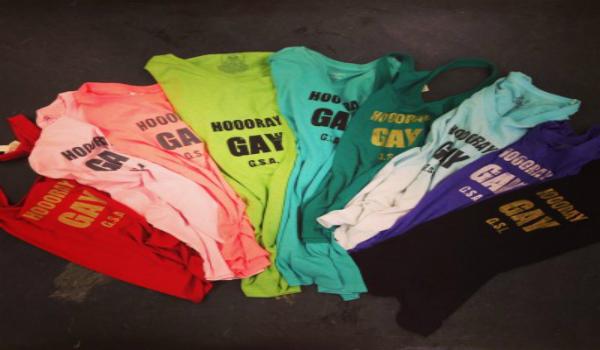 On Saturday, May 3rd, Ludlow High School's Gay Straight Alliance (GSA) club marched in Northampton's 33rd annual Pride Parade.
Art teacher and adviser of the GSA club, Carey Maguire told the Cub before they attended the parade, "I'm looking forward to honoring and celebrating the diversity and history of the LGBT ( Lesbian, Gay, Bisexual, Transgender) community. Also marching with the brave kids that go out there and show their pride, especially with the way the LGBT community has been put down." 
Maguire wanted to protect the privacy of the students who marched and would not give The Cub names of any students.
Before the parade, Maguire encouraged all students and faculty to come and show their pride.
Most of those who attend the parade paint their faces or bodies the colors of the rainbow, wear rainbow tutus, and more. The GSA didn't go to that extreme, they wore rainbow t-shirts  that read "HOOORAY GAY G.S.A" which they made themselves with silk screening.
Noho's website describes Pride Parade as, "Over 18,000 people gather for dancing, eating, shopping, learning, socializing and enjoying the freedom to celebrate who we are."
Maguire said that one member of the staff attended, the guidance intern, Renee Considine, and some Ludlow High School alumni.
"[The parade] was great. It was nice to see people cheering for the really brave kids," said Maguire.