Seniors make a come back in Winter Spirit week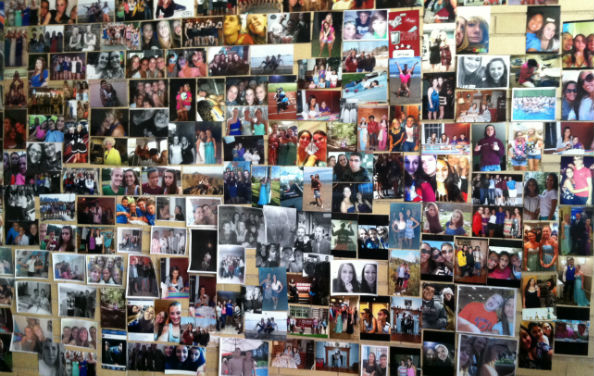 The results are in. Seniors take the title of Deck the Halls champions after coming in first place with their heart warming theme of "social media," leaving them shy one point of taking the title of the Winter Spirit Week winners.
"It felt wicked awesome winning [Deck the Halls] and I am so proud of our hallway and my class," says senior Olivia Wojtowicz.
As of right now the Battle of the Classes is heating up with the sophomores in first place with a total of 18 points, seniors in second place with 17 points, juniors third place and freshman in fourth place.
From Facebook to Schoology to Myspace the seniors decorated the main ramp with tweets from the students, pictures with fellow classmates and "apps" hanging from the upstairs ramp, sharing all the memories that they have with one another and with LHS.
The sophomores took second with their "Santa's Workshop" theme.  Students were able to cozy up as they walked through the double doors of the cafeteria wing, seeing Santa's helpers making toys, a Christmas tree with presents and stockings hanging from the wall. Students were also able to look and see if they were on the "naughty or nice list" this year.
The juniors came in third with their "Red Sea" theme. LHS was able to get away from the cold weather and enter paradise as they walked down the B-wing. When stepping onto the tropical island students got the feeling of getting away when seeing hula skirts hanging from the walls, flamingos and of course, locked up pirates that symbolized the other classes.
The freshman took last place with their "Willy Wonka" theme seeing as how the color was changed from yellow to purple. The students were on a sugar high as they walked through Willy Wonka's candy factory in the C-wing.  Like the movie they had Wonka's boat, the blueberry girl and Wonka himself.
However, Winter Spirit week isn't over yet. The seniors and sophomores go head to head as they dress up for the last day of the week, "Christmas Spirit."
All grades are encouraged to get into the holiday spirit by wearing colors such as red, green, gold, and silver as well as dressing up with hats and accessories that accommodate with the season.
Once all grades are counted, the overall winners of Spirit Week and Penny Wars, which raised $1,144, will be announced seventh period along with an assembly held for the winners in which prizes will be handed out.
"I really hope we can beat the sophomores," says Wojtowicz, " it's definitely going to be a close one."