Mr. Nice Guy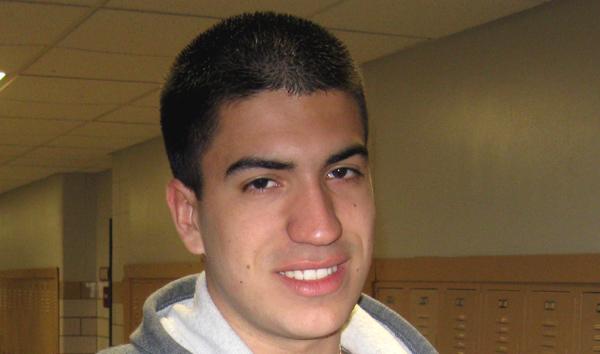 Most of the students at Ludlow High School who have gotten to know senior Bryan Amaral would say that he is by far the nicest kid in school. I have never heard anybody, and I mean anybody, say a bad thing about him — quite an impressive feat among teenagers. Yet ironically, our smiling Mr. Nice Guy is taking his post-graduate self to the army reserves where he's going to learn how to be a fighting machine.
"My mother has always encouraged me to join," he says. "She always said it would make a man out of me."
This is atypical, from what I've seen; most mothers these days encourage their sons not to go to the army. He heads to basic training on June 28 and then it's straight on to tech school. He'll be gone for 35 weeks.
Amaral is smart (Ask to see his report card.). And that's why in the army, he wants to be a "signal intelligence analyst." His job will be to translate signals via satellite from anywhere the U.S. army is deployed. These are top-secret messages that are used to communicate "intelligence" — information that the military uses to create strategy and defense.
But before he heads out for his military training, he's going to finish high school and enjoy his last days as a student.
Since Amaral will be a "weekend warrior" (reservists train one weekend a month and a few weeks in the summer), he hopes to go to Westfield State to study criminal justice. "I hope to be in the FBI one day," he says. Since as long as he can remember he's been interested in busting the bad guys.
Some of Amaral's best high school memories include sports, spending time with friends, and all of the senior-year activities thus far. He cites being elected as class vice president and coming in second place in the volleyball marathon as highlights.
"We got together and played hard. In the end it paid off because we came so close to winning," said Amaral.
He really enjoyed his time spent on the football field. One moment stands out. It was when the LHS football team faced Palmer: "There was 30 seconds left in the game and I threw a hail mary to Jordan Smith and he caught it at the five yard line," he said. "We were one yard short of winning. It was hands down the funnest game ever."
Amaral is a simple kid. He enjoys hanging with his girlfriend and playing football in his free time. Clearly it's not about winning; it's about having fun and enjoying life.
I ask Amaral if he can reflect on anything negative about high school that he won't mind missing. He thinks for a moment and says, "I like to look at the positives rather than the negatives."
"I feel like the best days of high school are still come," he adds.