Desforges Challenge raises over $11,000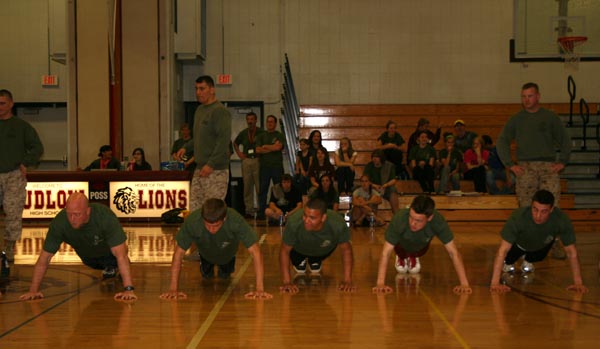 The Joshua D. Desforges Physical Fitness Challenge on May 19 generated over $11,000 towards a memorial and scholarship in the fallen Marine's honor. Tom Cote, who organized the event, hopes to raise about $10,000 more.
The challenge recruited 25 competitors, but only seven completed the hour-long grueling session lead by Cote, a former Marine and retired state trooper.
Sophomore Ryan Wytas and English teacher Charlie Cangemi were the only finishers currently at Ludlow High School. Alumni John Archambeau, Justin Lawlor and Brandon Vigneault also finished, along with Sgt. Lou Tulik from the Ludlow Police Department. Finally, Kyle Walters won the overall challenge by performing the most amount of pull-ups.
"Kyle was a last minute competitor. Kyle's best friend Shane was stationed in Afghanistan with Sgt. Desforges. When Desforges was shot Shane carried him to the helicopter for medical care. Shane was not able to attend the challenge, so he asked Kyle if he would go to Ludlow and represent their unit," says Cote.
The Desforges family also recognized Ryan Wytas, who came in second place.
"David Desforges, Joshua's father, came over to me and wanted me to introduce him to Ryan. He wanted to tell him he has heart," Cote said.
Out of all 25 competitors only two were girls, senior Alexa Wurszt and senior Susan Skaza.
"This whole event was a lot of fun and for a great cause, even though I was one out of two girls, I felt comfortable and did very well for my expectations," said Skaza.
Cote was very impressed with Skaza's determination and how far she lasted.
"Susan is a trooper. She has competed in previous fitness challenges, and has great school spirit. She is a great role model for all female students," says Cote.
Competitors who lasted the full one hour will receive a t-shirt that says "I met the 2011 Sgt. D. Desforges Challenge." Walters, the overall winner, received a plaque from the Marine Corps that read "I won 1st place in the 2011 Sgt. Joshua D. Desforges Challenge," and will recieve a t-shirt reading the same thing.
Cote said that the fundraising is on-going. He would like to reach his goal of $20,000 by purchasing and selling more t-shirts at the Memorial Day parade on  May 30, and at "Celebrate Ludlow" this July. So far over 1,000 memorial t-shirts have been sold.
"I am encouraging that all people who have purchased the Joshua D. Desforges t-shirt to wear it on Memorial Day to help us to remember Joshua," said Cote.
The construction of the memorial will begin this summer, Cote said.
Cote was initially concerned that the attention surrounding the event might be painful for the Desforges family. But he did not need to worry.
"We are all so overwhelmed by the amount of support, when Mr.Cote approached us about the challenge, I never imagined it'd be this big," said Mrs. Arlene Desforges, Joshua's mother.