LHS team wins push-up contest for charity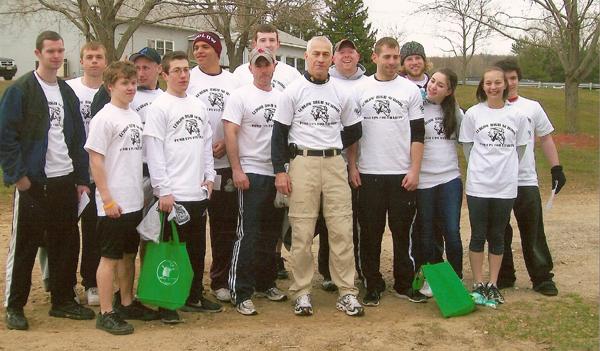 The LHS team of faculty and students led by Mr. Tom Cote won the push-up for charity challenge on April 16 at the Ludlow Fish and Game Club, beating teams from the Ludlow Fire Department, Ludlow Police Department, the Massachusetts State Police, Core Fitness, and Big Y.
"It felt great to have participated for a wonderful cause and I am happy for those students who came out and supported us," said Cote.
All proceeds from this event went to the Wounded Warrior Project, a charity for veterans who acquired service wounds physically or mentally on or after September 11, 2001. Core Fitness owner John Sauveur, who ran the event, estimated that a total of about $10,000 was raised for the wounded warriors.
"The event went better than expected," he said, adding that over 70 participants competed. Local business donated food, giveaways, and prizes for the winners. A military member came to the event to sing the national anthem.
"It was great to see so many people who support our military and our country participate, donate, and attend the event," said Sauveur.
The LHS team raised over $2,500 for the Wounded Warrior Project. Faculty from LHS included Mr. Brett Smith, Mr. Keith Woodman, Mr. Charles Cangemi, Mr. Tom Bly and Cote. Students who competed were seniors Susan Skaza, Jenn Auger, Dave Clark, Brian Persson, Dylan Larrow, Cody Bovat, Cody Marion, Derek Kareta, Devon Markiewicz and sophomore Ryan Wytas.
"We had a really strong team and it was great to raise money for such a worthy cause," said Cangemi.