LHS senior becomes EMT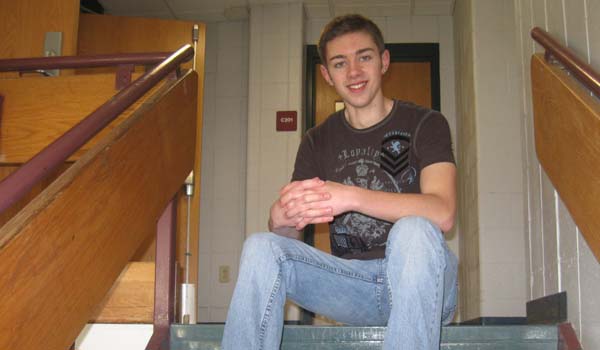 Everyday, we hear about extraordinary people doing extraordinary things. People who go above and beyond to challenge themselves. Senior Christian Mendes is one of those people. This year Mendes participated in an Emergency Medical Technician (EMT) course at Springfield Technical Community College.
The rigorous course required Mendes to attend three classes per week, and was taught by Barbara Pummell, who has been a top EMT instructor since the 80's.   
"For 12 weeks my life was beyond stressful," said Mendes. "I would wake up in the morning at 6, to be at school on time. I'd stay at school until 1:55, then I would go right home and study for my EMT course."
There are usually two or three people in an ambulance crew. They have to make sure that they are properly stocked with the life-saving materials they will need. When they respond to a call, they need to treat and stabilize the patient until the ambulance arrives at the hospital. Once at the hospital they have to hand the patient off to a nurse, clean and restock the ambulance, and head back to their station.
Mendes decided to take this course in his senior year of high school, so that he could go to paramedic school this upcoming fall. EMT paramedic is a step above basic EMT.  Basic EMTs usually receive 120 – 150 hours of training, while paramedics get anywhere from 1,200 hours to 1,800 hours of training.  Paramedics can give shots or start intravenous lifelines. Unlike EMT basics, they can also administer medications
"After I get my paramedic license I plan on going back to school to get a college degree, either associates or bachelors. By doing that I would have the ability to work on an ambulance as an EMT-B [basic] this summer if I get hired by a private ambulance company," said Mendes. "But eventually  I want to be a paramedic. In order to become an EMT-P [paramedic], you have to have your basics first; so basically, this is the first step to reaching my goal. Also, my uncle, Sargent Mark Mendes, a police officer here in town is an EMT, and he helped inspire me."
As many of us know being an EMT isn't easy, they need to be prepared for almost anything that comes their way.
"The hardest thing I've learned about the job is the situations you are put in and the things you see," said Mendes.  "Codes, or responding to someone who is completely dead, cold, stiff with rigor mortis, to pick them up, put them in your ambulance, and bring them into the hospital is hard to deal with mentally."
Mendes can confirm the most feared phone call paramedics dread are those involving children.
"The most feared call by EMTs/Paramedics are calls that have to deal with children and infants," said Mendes "Multiple casualty incidents, which are most common in car accidents, can also be very stressful for the EMT. There is a Trauma Center in North Hampton where EMTs/firefighters/police officers can speak to trained professionals on how to deal with their experiences."
Earning his certificate wasn't easy; Mendes put all his strength and ability into his course.
"I did very well on my final test, there were two parts, a physical one and a written one. The physical test, or practical, consisted of a medical and trauma assessment, CPR & AED use, putting someone on a backboard and securing them," said Mendes. "My written test was 100 questions, multiple choice, on the 36 chapters of information we covered throughout the course. The passing grade for the course was a 75 and I earned an 83. This course was not for "college credit" though, I have a certificate for the completion of my Basic Emergency Medical Technician course now, and will have my license this summer."