LHS holds 1st annual college fair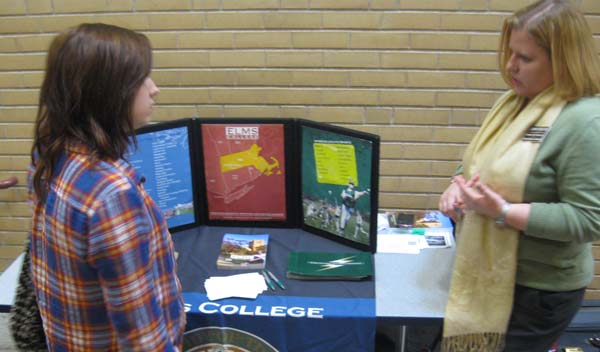 Ludlow High School held its first annual college fair on March 11 when 22 different institutions gathered in the D and F wings and the entrance foyer.  LHS students had the opportunity to attend the fair during periods 3 through 5, and it was mandatory for juniors to attend.  Other students interested were recommended to also attend. 
"The idea is to get students on the right path toward looking at colleges," said Principal Gina Flanagan. "It's a great opportunity for students to see what's out there for them."
Out of the 22 schools that participated in the fair, 17 were colleges and universities, while there were also five  technical schools. Some schools that attended were Westfield State Univerisity, American International College, Emmanuel College, and Porter & Chester Institute. 
"My goal here today is to get the word out about what my college can offer," said Elms College Assistant Director of admission and LHS alum Beth Szemela. 
Next year Flanagan wants to broaden the scope of the fair. "The fair has definitely been a success, and I am happy that so many LHS students took part," she said.  "But for next year, if we could have the auditorium available, I'd like to have a lot more schools to participate."
Juniors received helpful information, according to junior Samantha Godding. "It was nice to be able to chat with representatives from the colleges and find a good fit."